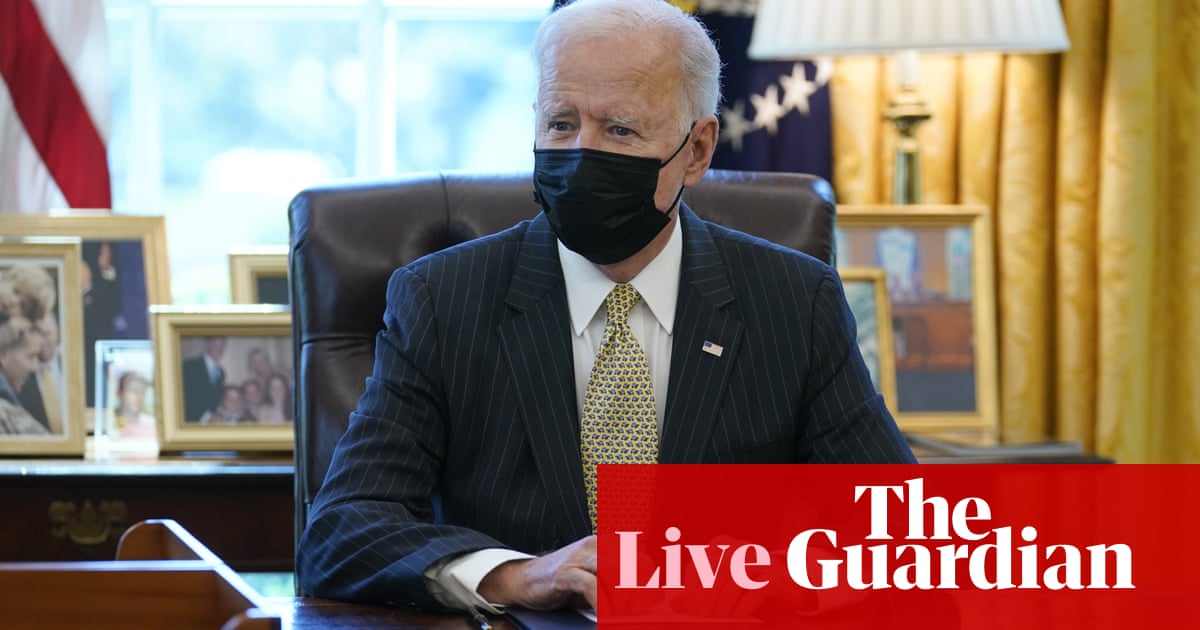 The infrastructure plan that Joe Biden will announce on Wednesday is set to crystalize the US president's vision of how to combat the climate crisis – hefty government intervention to retool America's creaking systems, festooned with plenty of green, preferably union, jobs.
Biden opened his White House term with a cavalcade of executive actions to begin the gargantuan task of shifting the US to net zero greenhouse gas emissions by 2050 and the new $2tn package, known as the American jobs plan, is the first indication of the scale of spending that will be required to reshape day-to-day life in order to avert disastrous climate change.
As well as huge investments in crumbling roads and bridges, the Biden plan takes aim at the emissions created by transport, currently the country's largest source of planet-heating gases. There's $80bn for Amtrak and freight rail, $85bn for public transit, $174bn to promote electric vehicles through various incentives, the electrification of school buses and 500,000 new plug-in recharging stations within the next decade. The federal government's vehicle fleet will also be electrified.
"There's a lot to like in this plan, it's excellent in almost every way," said Julio Friedmann, who was a climate and energy adviser in Barack Obama's administration and is now an energy researcher at Columbia University.
"This is a generational commitment and it can only be applauded. The $2tn is half the price tag of World War Two, it exceeds the scale of the New Deal, it's wildly larger than the Marshall Plan – and appropriately so. This is the hardest thing we've ever done. People generally don't understand how much construction and reduction is required."
But even the administration's allies concede further, longer-term spurs to remodel the economy and alter behavior will be required on top of this plan.
pic.twitter.com/luBzi2Wh7N
March 31, 2021
The president boarded Air Force One in the pouring rain moments ago, and he offered a salute at the top of the steps to the plane.
Biden is traveling to Pittsburgh with several senior advisers, including national climate adviser Gina McCarthy and principal deputy press secretary Karine Jean-Pierre.
The Wisconsin state supreme court has struck down governor Tony Evers' statewide mask mandate designed to curb the spread of coronavirus.
More than a year into the pandemic, the US has not once managed to get the virus officially under control and, with variants and vaccines in a perilous "race", Joe Biden is urging the public to remain vigilant and his public health experts are warning of the "impending doom" of another surge of infections if restrictions are relaxed.
Nevertheless, Republican leaders at state level are rushing to lift restrictions, Florida, Texas, Arkansas, Tennessee among them and now Wisconsin, over the efforts of the Democratic governor.
The Associated Press reports:
The Wisconsin supreme court on has struck down governor Tony Evers' statewide mask mandate, ruling that the Democrat exceeded his authority by unilaterally extending the mandate for months through multiple emergency orders.

The 4-3 ruling from the conservative-controlled court is the latest legal blow to attempts by Evers to control the coronavirus. It comes after Republicans in the Legislature voted to repeal the mask mandate in February, only to see Evers quickly re-issue it.

The court last May struck down Evers' "safer at home" order, saying that his health secretary did not have the authority for such an order.

Evers' attempts to limit capacity in bars, restaurants and other indoor places were also blocked by a state appeals court in October.

In the latest case, the court ruled that any public health emergency issued by Evers is valid for just 60 days and can't be extended without legislative approval.

"The question in this case is not whether the governor acted wisely; it is whether he acted lawfully. We conclude he did not," Justice Brian Hagedorn wrote for the majority.

Evers spokeswoman Britt Cudaback didn't immediately respond to a message seeking comment.

Justice Ann Walsh Bradley, a member of the court's three-justice minority, lamented in a dissent that the ruling hampers the ability of governors in Wisconsin to protect lives.

"This is no run-of-the-mill case," she wrote. "We are in the midst of a worldwide pandemic that so far has claimed the lives of over a half million people in this country. And with the stakes so high, the majority not only arrives at erroneous conclusions, but it also obscures the consequence of its decision.

"Unfortunately, the ultimate consequence of the majority's decision is that it places yet another roadblock to an effective governmental response to Covid-19."
Here is a map from yesterday, that NBC created:
Donald Trump just put out a statement criticizing Joe Biden's forthcoming bold legislative plan for infrastructure redevelopment.
Not known for his subtlety or accuracy, 45's statement continues (from previous post):
This legislation would be among the largest self-inflicted economic wounds in history.

If this monstrosity is allowed to pass, the result will be more Americans out of work, more families shattered, more factories abandoned, more industries wrecked, and more Main Streets boarded up and closed down—just like it was before I took over the presidency 4 years ago.

I then set record low unemployment, with 160 million people working.

This tax hike is a classic globalist betrayal by Joe Biden and his friends: the lobbyists will win, the special interests will win, China will win, the Washington politicians and government bureaucrats will win—but hardworking American families will lose.

Joe Biden's cruel and heartless attack on the American Dream must never be allowed to become Federal law. Just like our southern border went from best to worst, and is now in shambles, our economy will be destroyed!
Yes, the former president finished with an exclamation point!
In yet another break with presidential tradition, and before Joe Biden has even formally presented his infrastructure plan this afternoon, the immediate past president has weighed in.
Donald Trump has put out a statement. Here is the first section of it:
Joe Biden's radical plan to implement the largest tax hike in American history is a massive giveaway to China, and many other countries, that will send thousands of factories, millions of jobs, and trillions of dollars to these competitive Nations.

The Biden plan will crush American workers and decimate U.S. manufacturing, while giving special tax privileges to outsourcers, foreign and giant multinational corporations.

Biden promised to "build back better"—but the country he is building up, in particular, is China and other large segments of the world. Under the Biden Administration, America is once again losing the economic war with China—and Biden's ludicrous multi-trillion dollar tax hike is a strategy for total economic surrender.

Sacrificing good paying American jobs is the last thing our citizens need as our country recovers from the effects of the Global Pandemic.

Biden's policy would break the back of the American Worker with among the highest business tax rates in the developed world. Under Biden's plan, if you create jobs in America, and hire American workers, you will pay MORE in taxes—but if you close down your factories in Ohio and Michigan, fire U.S. workers, and move all your production to Beijing and Shanghai, you will pay LESS. It is the exact OPPOSITE of putting America First—it is putting America LAST!

Companies that send American jobs to China should not be rewarded by Joe Biden's Tax Bill, they should be punished so that they keep those jobs right here in America, where they belong.
The cashier who served George Floyd immediately before his arrest last May has described him as appearing to be "high" on drugs in testimony on the third day of Derek Chauvin's murder trial.
Christopher Martin, 19, said he noticed Floyd because "he was a big man" and that they had a long conversation about sport. He said that the 46 year-old Black man's speech was laboured.
"It would appear that he was high," he said.
Martin worked at Cup Foods in south Minneapolis, where Floyd is alleged to have tried to buy cigarettes with a counterfeit $20 bill, which led to his detention by Chauvin, a Minneapolis police officer at the time.
Floyd's official autopsy showed that he had opioids and methamphetamine in his system when he died.
Chauvin's defence contends that the officer's use of force was reasonable because Floyd was under the influence of drugs at the time of his detention. Eric Nelson, Chauvin's lawyer, has also told the trial that the drugs contributed to Floyd's death.
The prosecution acknowledges the use of drugs but has said that it neither justified Chauvin continuing to press his knee into Floyd's neck as the prone man repeatedly said he cannot breathe nor was a cause of his death.