Urban living has its perks, but they come at a cost: It turns out families spend $9,073 more a year to cover basic living expenses in the city than in the suburbs, according to a new analysis from Zillow and Care.com. Those costs include mortgage payments, property taxes and child care.
The urban-suburban disparity varies considerably depending on the metro area.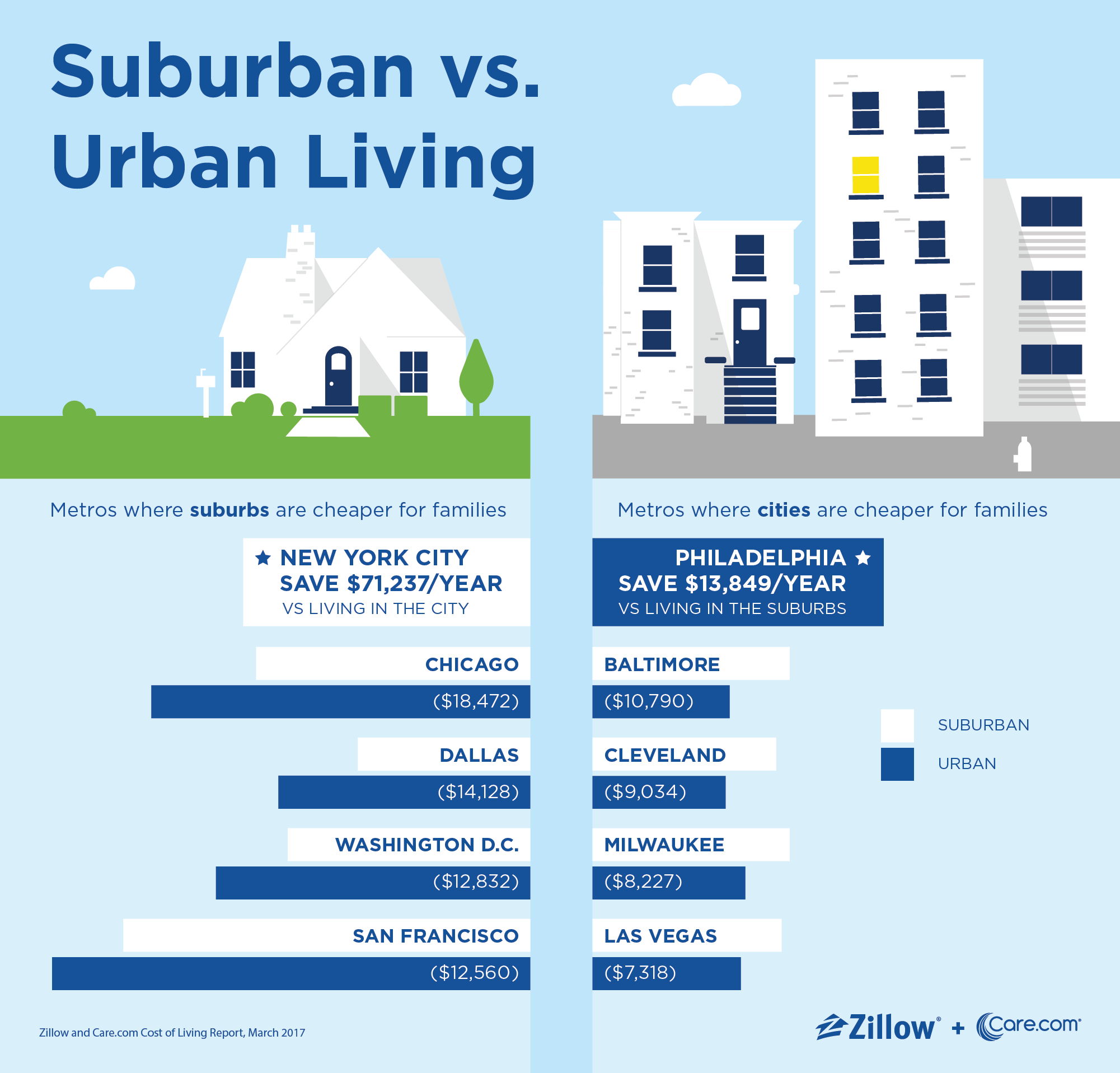 In the New York City metro area, families spend $71,237 more a year to cover living expenses in the city than in the suburbs. That's nearly $6,000 extra each month. In Chicago, the city costs $18,472 a year more, and in Dallas, it's $14,128 extra.
For some metros, the opposite is true. The cost of living in the suburbs of Philadelphia, for example, is $13,849 a year less than living in the city. In Baltimore, living expenses in the suburbs are $10,790 less, and in Cleveland, they're $9,034 less.
Home costs are a big part of the equation. Nationally, the median property taxes and mortgage payments on an urban home totals more than $22,000 a year, which is $7,000 more than the median homeowners would spend on a suburban home.
Lower child care costs in the suburbs can offset the mortgage and taxes. In Minneapolis, for example, the annual cost of housing is similar between urban and suburban areas, at just under $15,000. But in the suburbs, families with two children can save $4,119 a year on a child care center or $1,759 a year on a nanny.
Most homeowners live in the suburbs, with just 23 percent choosing urban settings, according to the Zillow Group Housing Trends Report. Millennials lean more heavily toward city living (33 percent), but nearly half of them live in the suburbs — where they are making their mark by opening high-end restaurants and other businesses.
Check out more insight into metro-level child care data from Care.com.
Related:
Source: zillow.com