Black and Hispanic people who apply for mortgages continue to be denied at rates far higher than whites and Asians.
The numbers have improved in recent years, with 22.4 percent of black applicants denied conventional loans in 2015, according to Zillow Research's analysis of the latest Home Mortgage Disclosure Act (HMDA) data. That's down from a denial rate of 30.5 percent in 2010.
For Hispanic applicants, the denial rate in 2015 was 17.3 percent, down from 25 percent five years earlier.
"Owning a home is an important way for the middle class to build personal wealth," said Zillow Chief Economist Svenja Gudell. "It's encouraging to see more black and Hispanic borrowers getting approved for mortgages, but there's still a lot of progress that needs to be made."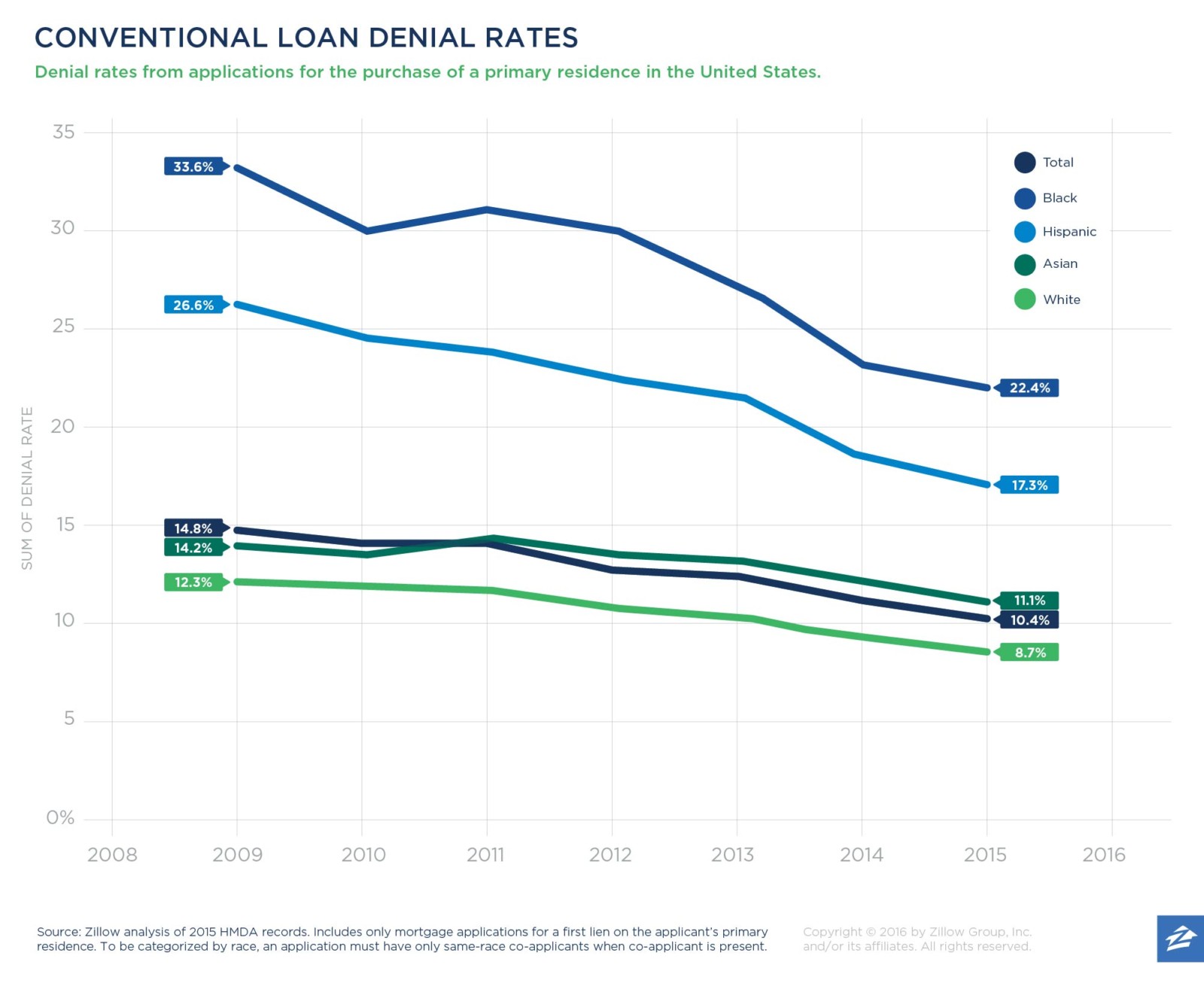 In part, the improvement comes from an uptick in the overall economy and housing market.
Only 10.4 percent of all conventional loan applications were denied in 2015, down from 14.2 percent in 2010. For whites, the denial rate fell to 8.7 percent from 12.2 percent; for Asians, it declined to 11.1 percent from 13.6 percent.
This mortgage divide, which Zillow Research shows begins even before people apply for loans, is one reason blacks and Hispanics historically have the lowest homeownership rates in the United States. The gap between black and white homeownership rates has been consistent for more than a century, although new survey data from the Zillow Group Report on Consumer Housing Trends show that homeownership is becoming more diverse.
Last week, Fannie Mae and Freddie Mac unveiled new programs to improve access to credit for blacks and Hispanics, groups that have the lowest homeownership rates.
Related:
Source: zillow.com