For many Americans, owning a home is a rite of passage. But not everyone puts homeownership on their priority list.
Long-term renters (those who have been renting for more than one year) are opting out of the home-buying game for a variety of reasons, from a desire for mobility to simply not being able to afford a home purchase.
It's not just twenty-somethings who make up this group – the population of long-term renters spans all generations, from millennials to baby boomers.
According to the Zillow Group Report on Consumer Housing Trends, 56 percent of today's renters are millennials (ages 18 to 34). While a majority of renters are in their 20s and 30s, not everyone is in the under-40-club: 28 percent are part of Generation X (ages 35 to 49), and Baby Boomers (ages 50 to 64) make up another 12 percent.
"I want flexibility – not a mortgage"
Many renters are staying in the rental market longer than they planned, as evidenced by falling homeownership rates over the past decade. The Zillow Group Report on Consumer Housing Trends reveals that long-term renters are generally content with their current living situations. This echoes what long-term renters across the United States are saying: It's about flexibility.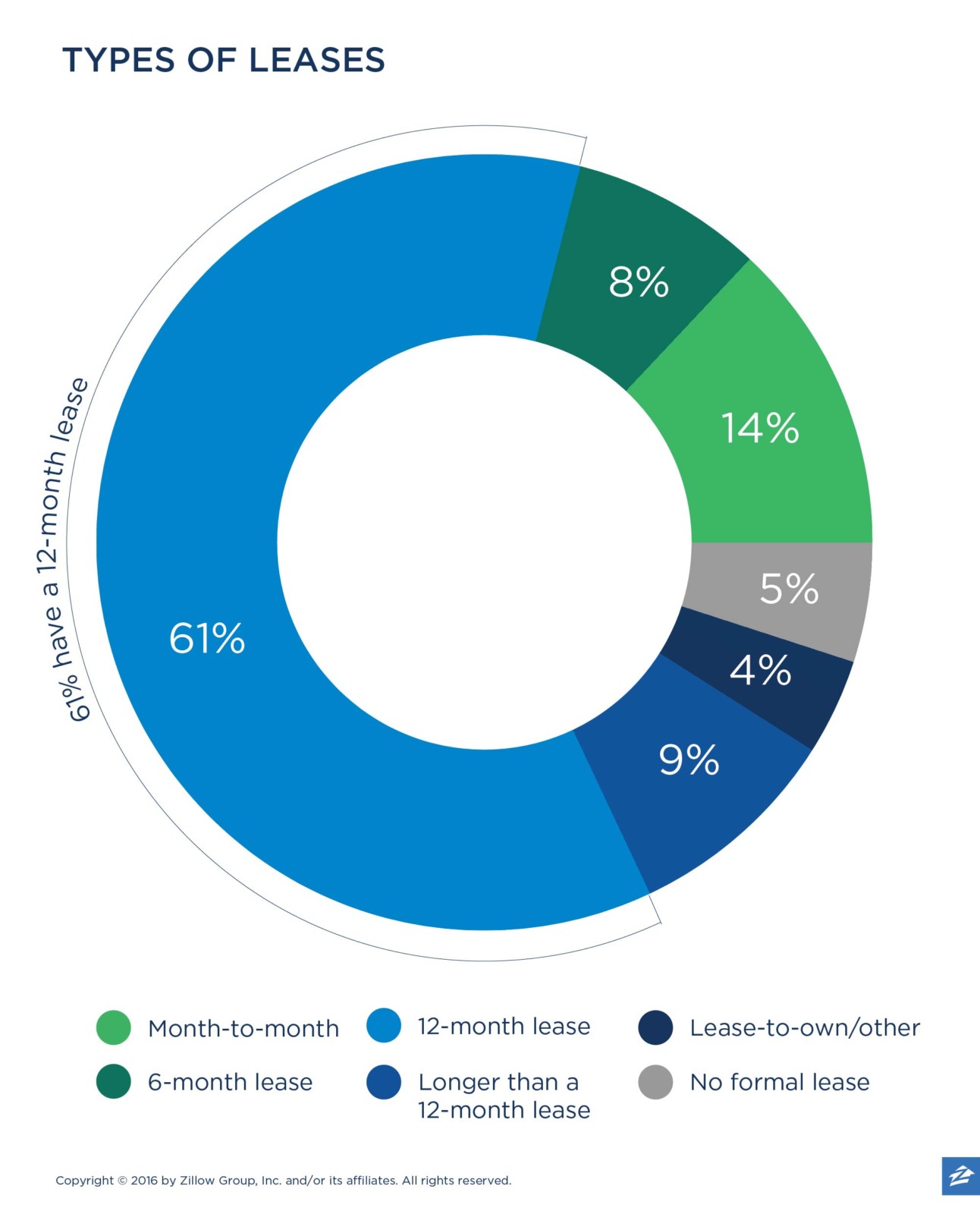 Los Angeles renter and real estate agent Monica Rivera explains that, for her, renting is all about mobility and location. "I choose to rent because I'm not ready to stay in one place just yet, and renting provides a great level of flexibility," says Rivera, a millennial.
"I know the traditional idea of homeownership has been finding that dream home you'll live in for seven plus years," she adds. "Maybe it's a millennial thing, but I tend to move every two years depending on new opportunities or even proximity to places I enjoy visiting."
The report also indicates that the longer someone rents, the more likely they are to stay put. More than half of renters not looking to move have rented for five or more years.
Millennial Kim Van Horn has been renting in Seattle, WA for more than five years and intends to rent for up to 10 more. She and her husband enjoy being able to live wherever they like without the constraints of a "house budget."
"There's much more flexibility and inventory with renting," remarks Van Horn.
Jacqueline Smith, a Baby Boomer who lives in Natick, MA, says her reasons for renting revolve around her temporary living situation. After moving for work, the Smith family chose to rent until their children go to college, and then relocate.
"We're renting just until our last child finishes the first two years of college," Smith explains. "It's easier than buying and then trying to sell in a short period of time."
"What's the rush?"
The Zillow Group report also indicates that families who have been renting long-term are more likely to plan to move to a purchased home. In fact, 40 percent of long-term renters hope to purchase a home once they decide to move.
Baltimore resident and SparkRental real estate blogger Brian Davis has rented for most of his adult life. Now in his mid-30s and married, Davis intends to continue renting for some time to come. "For now, my wife and I are still enjoying traveling a great deal and don't need a home larger than our apartment," he says. He intends to buy a home once they have kids.
Sam Wright, a millennial who lives in Fort Worth, TX, is a teacher and graduate student with plans to move once she finishes her doctoral program. "I rent because it's far cheaper than owning a home. Even though my rent is slightly more than my mortgage [would be], I pay less in utilities and nothing in terms of maintenance and repair," she explains.
"Renting also lets me live closer to where I need to be than owning would allow," Wright notes. She adds that renting for a few years also affords her the time she wants to decide where she'd like to settle down.
"I just can't afford it"
On the flip side of opting for flexibility is the harsh reality of financial constraints.
Jamie Harsha Sass, a millennial in Ames, IA, recently bought her first home after renting for 16 years. As a single parent and graduate student, Sass says her financial situation wasn't stable enough to buy a home of her own.
After remarrying, she and her husband were able to purchase a home together. "I never intended to rent for so long, but my life took some serious unplanned detours," Sass says. "My credit was a mess for almost a decade, which prevented me from buying a home until recently."
Debt is another issue for many renters who hope to be homeowners some day. Courtenay Cook Stevens, a millennial living in Orem, UT, rents a home for now. She doesn't think she and her husband have the credit to buy yet.
"We're a single-income family with two kids and a ton of student loan debt, some credit card debt, some lingering medical debt, and about one year left on our car loan," Stevens explains. "With the amount of debt we're in, we wouldn't be able to get approved for a home loan that would get us the type of home we need. For the time being, renting allows us to enjoy nicer digs than we'd get buying."
Adrienne Ward, a Baby Boomer in Union Beach, NJ, moved to the East Coast during the recession and could not sell her home in Illinois. She and her husband are currently renting their New Jersey home on a yearly contract. Uncertain of whether her family will buy property in New Jersey given real estate prices, Ward and her husband plan on renting for the foreseeable future.
While owning a home may be perceived as the ultimate American dream, the Zillow Group report shows that in general, long-term renters are happy with their current living situations.
Check out the full Zillow Group Report on Consumer Housing Trends to read more about today's renter.
Related:
Source: zillow.com