Home shoppers in Arkansas and Washington, D.C. are looking for retail with their rentals. Landlords in the D.C. area are seven times more likely to include "Starbucks" in their rental listing, while the phrase "close to Walmart" is 54 times more popular in the Natural State than anywhere else in the country.
Rental shoppers in New Hampshire, on the other hand, seem more interested in technology, with "USB port" 287 times more likely to be included in a listing there. Other states with a tech focus are Oregon, where "free Wifi" is six times as popular, and Missouri, where "Google fiber" is 92 times more likely to be mentioned in a rental listing.
Zillow analyzed every rental listing from last year to find out which unique terms set apart each of the 50 states, and the results reveal a whole lot about what's important to landlords and renters in each locale, from distinctive home styles to an area's recreational preferences, weather and even a fondness for flora.
Landlords in California are showing off their avocados, lemons and plums, with listings from that state eight times more likely to include the term "fruit tree." And that's not the only type of plant life being advertised: Rental listings in Colorado mention "marijuana" 45 times more often than any other state. Renters in Illinois are looking for some outdoor fun and relaxation, with "forest preserve" 294 times more likely to be included in a listing.
In New York, rental listings are five times more likely to include "closet space," which is understandable given how small some Big Apple apartments can be. However, people in North Carolina are more interested in their "outside storage" features, with the term 11 times more popular.
In New Mexico, fireplace features are popular in listing descriptions, and keeping in style with much of the state, "kiva fireplace" is 734 more likely to be included in a rental listing. But, in Wisconsin, the focus is on the food, with "gas grill" seven times more popular than in any other state.
Check out which listing terms show up the most in each state, then take our quiz to see how well you can match a popular feature with its state.
Looking for advice on renting? Check out our Renters Guide.
Want tips on finding tenants and managing properties? Zillow Rental Manager is for you.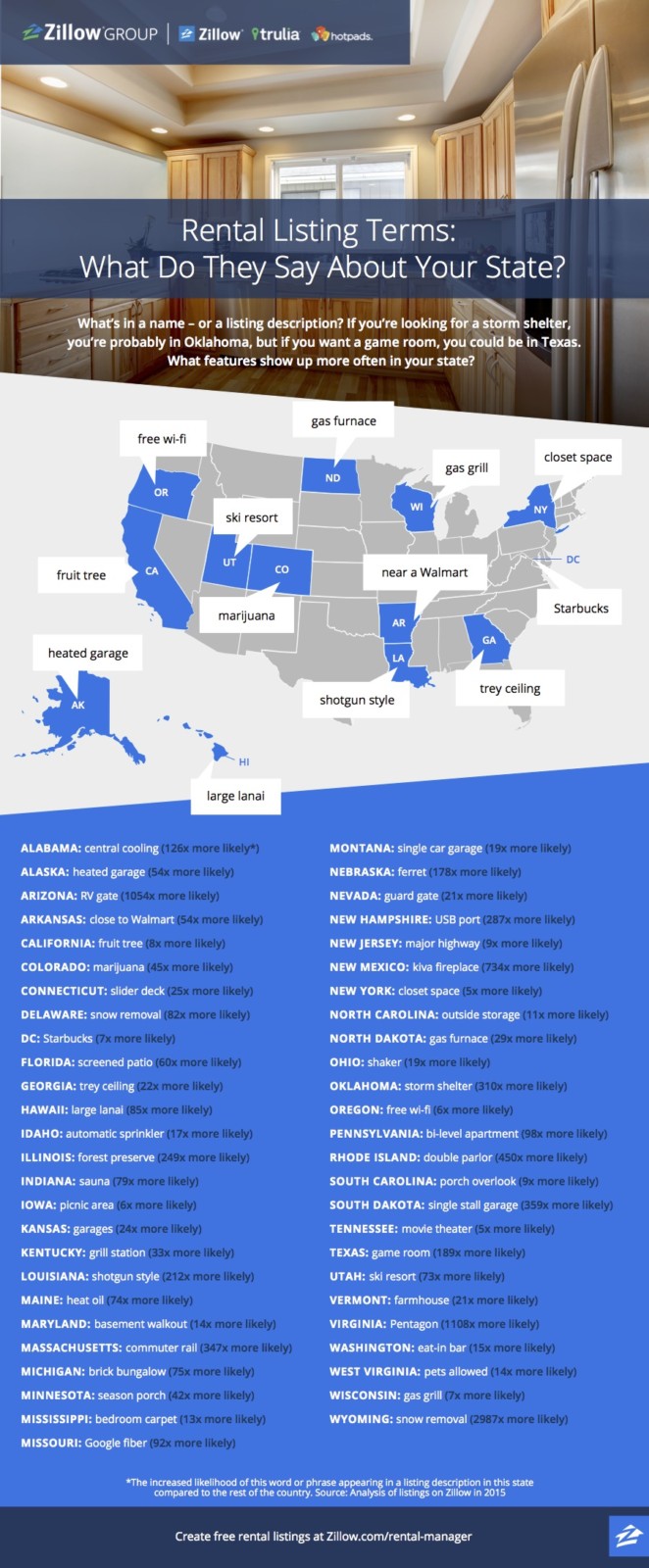 Source: zillow.com