Which university costs more: Harvard, Yale or MIT? It's relatively easy to compare tuition and even dorm fees — but off-campus housing costs are harder to pin down. They also can make a big difference in the tab for a higher education.
In fact, 80 percent of the towns where elite colleges are located, based on U.S News & World Report's newly released Best Colleges of 2017, have median rents above the national median of $1,408 a month, according to a new Zillow analysis.
The median rent in Cambridge, MA, where Harvard University and MIT students gravitate for off-campus housing, is $2,594 a month, while Yale University students who live off campus in New Haven, CT, pay just over half that: $1,428 a month.
Those figures don't account for the size of the rental unit or for roommate situations, but they do reflect the starkly different real estate markets in Cambridge and New Haven.
Although off-campus housing costs might not come into play until sophomore or junior year, they're worth weighing into the college-cost equation.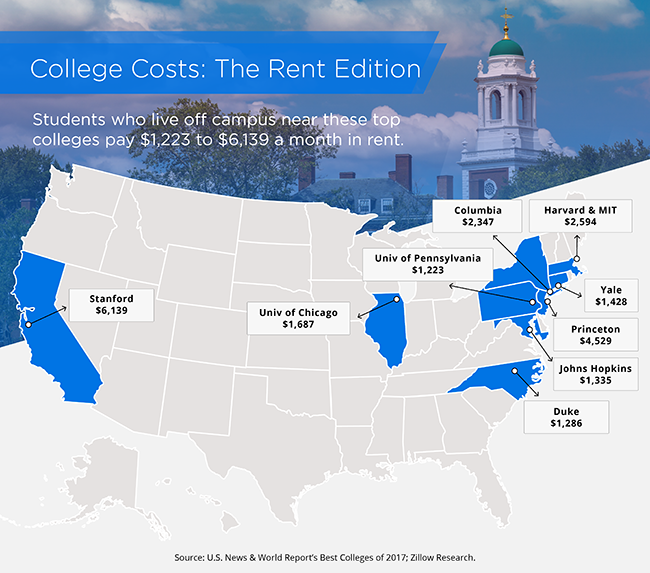 "As students and their parents are filling out applications this fall and are crunching the numbers on financial aid and student loans, they should also factor in cost of housing," said Jeremy Wacksman, Zillow's chief marketing officer. "Looking at both on- and off-campus housing prices, and thinking through whether they'll likely live with roommates or alone, will help them gauge an accurate picture of the student loans and financial aid they will need in order to obtain their degree."
Beating the Bay Area blues
Housing around Stanford University was the highest among top-ranked colleges. Reflecting the Bay Area's astronomical housing costs, the median rent in Palo Alto is a whopping $6,139 a month.
However, Stanford houses almost all of its undergraduates in university housing, where they pay about $14,600 for room and board for the school year. Some 60 percent of Stanford's graduate students live on campus and pay $12,300 for rent plus $5,800 for food.
The university provides a subsidy for the other grad students, so that their cost of living approximates that of students living on campus, according to Lisa Lapin, associate vice president for university communications at Stanford.
Chicago sings a sweeter tune
Most college towns are not as pricey as Palo Alto — and they're great places to live, according to Peter Cassel. He's in Hyde Park, the neighborhood adjacent to the University of Chicago, and is director of community development for Mac Properties, the biggest landlord in that neighborhood.
Hyde Park is that rare South Side Chicago neighborhood that's known for being safe — in part because the university has its own police force.
It also offers a tremendous quality-of-life boost, whether you're a student or not. "From my perspective, to choose to live in a neighborhood that doesn't have a large university in it seems crazy," Cassel said.
He enjoys the people who are attracted to the university. "They create a level of diversity and enthusiasm that is very positive." And he relishes the amenities that pop up around it. "There's some sort of music program going on every night of the week. There's a local neighborhood symphony, a radio station, multiple local theater groups – all of which in some way are supported by the university."
Mac Properties offers one-bedroom apartments in Hyde Park that start at about $1,200 a month. That's better than the Chicago median of $1,687 a month — but still higher than South Bend, IN, where the University of Notre Dame is located, and Winston-Salem, NC, which Wake Forest University calls home. Median rents there are $723 and $994, respectively.
Bargains aren't out of the question
Medians are by definition in the middle, though, which means some students will find deals.
Jessica Dougherty beat the $1,286 median rent in Durham, NC, when she was a graduate student at Duke, No. 8 on the U.S. News and World Report list. She paid just $900 a month for a one-bedroom apartment. It didn't include Internet or cable, but she did have an in-unit washer and dryer, and was a three-minute bus ride to the building where most of her classes were.
Dougherty graduated last year and moved to a place that costs $1,370 a month. It's a little farther from work, but the complex has both saltwater and chlorinated pools, plus trash "valets" who pick up garbage at her door at 8 p.m. every night.
Friends are jealous, Dougherty reports, and Durham's best restaurants and other offerings are just down the street.
Related:
Source: zillow.com