Pittsburgh is strong as steel when it comes to empty nest households, according to new Zillow research.
Steel City holds the top spot in a new survey of markets where older homeowners live in a house with no children. The number of empty nests nationwide is higher than ever before, having climbed steadily in the past decade, says Aaron Terrazas, a senior economist at Zillow.
An "empty nest" is defined as a home where the heads of the household are 55 years or older, own the home, and have lived in it 10 or more years. There are no children — of any age — living in the home.
In Pittsburgh, 20.2 percent of homes are considered empty nests, based on U.S. Census Bureau data. Buffalo, Cleveland, Richmond, and Birmingham round out the top five metros with the highest percentage of empty nesters.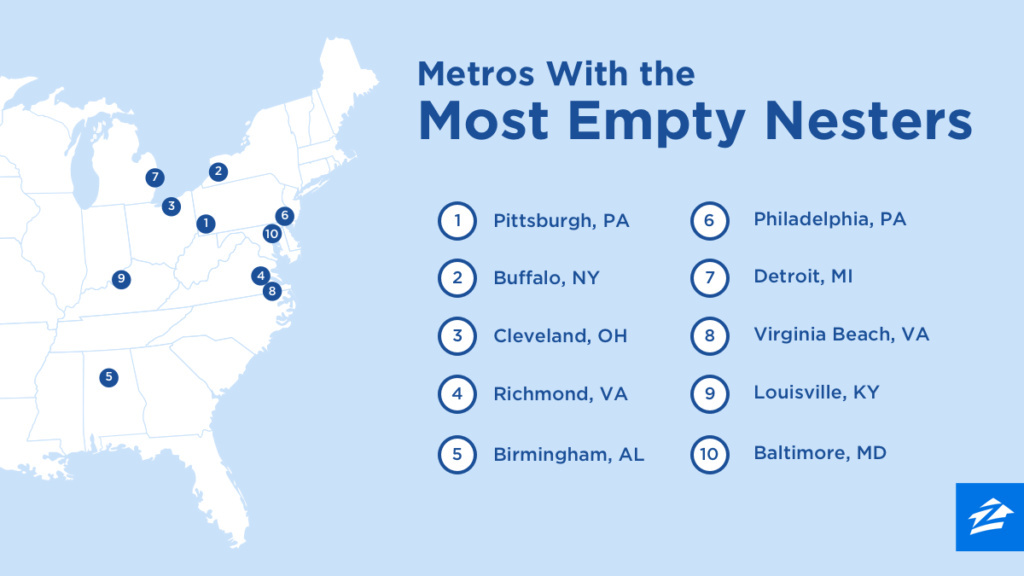 But empty nests aren't necessarily a bad thing, says Dr. Christine Proulx, an associate professor at the University of Missouri who studies families, relationships, and marriage.
"For the most part, the change was sort of marked with pride and a sense of awe and wonder," says Proulx, who has analyzed empty nesters as part of her research. "[You're] watching this human being that you have been in charge of since birth — or close to birth — mature into a young adult.
"It's just a very pleasurable shift in that relationship," she adds.
The places with the lowest densities of empty nests include booming cities with strong job markets, such as Austin, Phoenix, and San Francisco. Retirement communities, such as Fort Myers, Tampa, and Orlando — all in Florida — also registered low on the list.
An additional 4.3 million households are "near-empty" nests, meaning they would be empty nests if an adult child currently living at home were to break out on their own.
That harkens back to the idea that empty nesting may not be a permanent thing, Proulx adds.
"I call them boomerang families," she says. "I don't think empty nesting is now a one-time shot.
"I'm more Gen X," continues Proulx, now a parent herself. "I think people in that generation are also leaving and then coming back."
Read the full report.
Related:
Source: zillow.com