The White House announced Joe Biden and Kamala Harris will be cancelling a planned rally in Atlanta tomorrow, where they were going to promote the American Rescue Plan, instead focusing on meeting with Asian American leaders and visiting the Centers for Disease Control and Prevention.
Rand Paul and Dr Anthony Fauci just got into a bit of a spar as Fauci and other federal officials testify in front of the Senate health, education, labor and pensions committee today.
Paul expressed frustration over guidance from Fauci and the Centers for Disease Control and Prevention (CDC) that says everyone, including those who have been vaccinated and have recovered from Covid-19, need to wear masks.
"If we're not spreading the infection, isn't it just theater?" Paul asked Fauci. "You've had the vaccine and you're wearing two masks, isn't that just theater?"
Fauci went on to say that Covid-19 variants make "a good reason to wear a mask"
Paul doubled down, saying "you've been vaccinated and you parade around in two masks for show. You can't get it again." Paul said that people would be more likely to get vaccinated if they are told they don't need to wear a mask after they've been vaccinated.
"I completely disagree with you," Fauci said, clearly annoyed with Paul, before moving on to discuss the risk variants can pose to those already with immunity.
Deb Haaland, Biden's new interior secretary, has just been sworn in by Kamala Harris. Haaland is the first Native American cabinet secretary in US history.
Somah Haaland, the secretary's daughter, held the Bible as Haaland took her oath.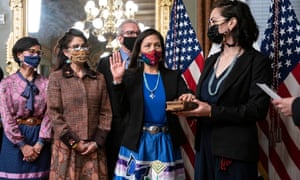 Joe Biden has asked senator Chris Coons of Delaware to travel to Ethiopia to meet with the country's prime minister, Abiy Ahmed Ali. On behalf of Biden, Coons will convey "grave concerns about the humanitarian rights abuses in the Tigray region and the risk of broader instability in the Horn of Africa", according to a statement from the White House.
Coons was shortlisted as a potential pick for Biden's secretary of state, but the role ultimately went to Antony Blinken as Democrats hold a tight grip on their slim majority in the Senate. Coons serves as chairman of the Senate Foreign Relations Committee's African affairs subcommittee.
The trial of Derek Chauvin, the former Minneapolis police officer who is charged with the death of George Floyd, is continuing. Jury selection has been momentarily paused as the district court judge overseeing the case is hearing from Chauvin's defense several motions, including whether a previous encounter Floyd had with Minneapolis police in 2019 could be used as evidence in the case.
Details of the encounter were released for the trial, including body camera footage from the three officers who were responding to a traffic stop. Officers initially responded aggressively to Floyd, who was not complying, but the situation quickly de-escalated. Floyd was taken into police custody, where he acknowledged that he was addicted to painkillers and had swallowed prescription narcotics upon being stopped by the police. Floyd was then taken to the hospital.
Judge Peter Cahill had previously blocked the encounter from being mentioned but is now reconsidering his decision. Cahill will also be considering limiting the testimony of a forensic psychiatrist, who prosecutors hope will highlight how humans respond to trauma.
Seven of the 12 jurors needed for the case have been selected. Yesterday, two jurors were dismissed over concerns their impartiality was tainted over news that Minneapolis awarded Floyd's family a $27m settlement.
Homelessness was on the rise even before the pandemic hit the US, according to recent figures from the Department of Housing and Urban Development released today.
On a single night in January 2020, months before the pandemic hit the US in full force, 580,000 people were homeless – a 2% increase compared to a single night the year before.
Over 106,000 children were homeless that night, including 11,000 who were living outside, not living in shelters. A disproportionate number of those homeless were Black, making up 39% of the total people who were homeless that night.
In a video statement that came with the report, housing and urban development secretary said the pandemic "has only made the homelessness crisis worse."
Joe Biden and Kamala Harris will meet with Asian American leaders in Atlanta tomorrow, the White House recently confirmed. A visit to the city was already on their schedule as part of their tour promoting the American Rescue plan, but tomorrow will speak to state legislators and community advocates about the rise of anti-Asian violence.
In remarks on Wednesday, Biden acknowledged that "Asian Americans are very concerned" and said the rise in brutality against Asian American is "very, very troubling".
This is Lauren Aratani taking over for Martin Belam. The Washington Post counted up all the lawsuits that Donald Trump faces as he adjusts to life outside the White House: Trump faces 29 cases that are pending in court, including some that came out of the insurrection at the US capitol.
Many of the suits are directed as his real estate companies, which have been under trouble during the pandemic. So far, no charges have come from these investigations, and the Post pointed out that Trump has raised $31m for his post-presidential political action committee, which he can tap into to help pay for legal feed.
Here's more from the Washington Post:



The sheer volume of these legal problems indicates that — after a moment of maximum invincibility in the White House — Trump has fallen to a point of historic vulnerability before the law.


He has lost the formal immunities of the presidency and the legal firepower of the Justice Department, but he is also without some of the informal shields that protected him even before he was president: his reputation for endless wealth and his clout as a political donor in New York.

Now, prosecutors roam free in his financial records. New lawsuits keep arriving. Some of his key lawyers have quit. A man who once used the law to swamp his enemies, overwhelming them with claims and legal bills, is finding himself on the other side of the wave, unable to control what comes next.
The number of Americans filing new claims for unemployment benefits unexpectedly rose last week, but the labor market is regaining its footing as an acceleration in the pace of vaccinations leads to more businesses reopening, reports Lucia Mutikani for Reuters
Initial claims for state unemployment benefits totaled a seasonally adjusted 770,000 for the week ended 13 March, from 725,000 in the prior week, the labor department said on Thursday. Economists polled by Reuters had forecast 700,000 applications in the latest week.
Economists will be closely monitoring claims for Texas and Mississippi after they completely rolled back their states' Covid-19 mitigation measures this month.
The labor market recovery is also being underpinned by the monetary and fiscal policy evidenced by Joe Biden's $1.9tn rescue plan, which is sending fresh aid to businesses and households.
Unemployment claims have dropped from a record 6.867 million in March 2020, but are still above their 665,000 peak during the 2007-09 Great Recession.
It is the north-east of the country that is currently causing particular concern to health officials monitoring the coronavirus pandemic. Will Wright reports overnight for the New York Times that:



In New York and New Jersey, new cases per capita are at least double the national average. New cases rates are raising concern in Rhode Island, Massachusetts and Connecticut, as well. And, as of last week, a variant of the virus that was first detected in New York City recently made up a growing proportion of new cases there.

Despite expansive vaccination efforts, the citywide seven-day average rate of positive test results has not been able to dip below six percent in months, according to city data.

While variants might be playing a role, a willingness to gather in groups, unmasked, might also be increasing as the weather warms and more people become vaccinated, he said.

"I think it is a race against time," Dr. Stephen J. Thomas, Upstate Medical University's chief of infectious disease, said. "Every single person that we can get vaccinated or every single person that we can get a mask on is one less opportunity that a variant has."
Read more here: New York Times – As the US makes headway against the virus, troubling trends persist in the north-east
Dr Anthony Fauci is a much more regular face on television during the Biden administration than he was during the Trump administration, and this morning he has been speaking to Savannah Guthrie and expressing a concern about a potential future Covid surge in the US, based off the numbers currently being seen in Europe. Fauci said:



I don't want to just be a worrywart, and we have to take this very coldly and examine it in a very scientific way, but this is what happens when you would plateau, and start to inch up. History has shown us through three surges that we've had, that's what happens. That's the dynamics of the virus in the community. It starts to go down, then it plateaus and inches up, and then you get a surge. It really is going to be a race between the vaccine and the potential surge. That's the good part of this equation, every day we're getting two to three million people vaccinated in this country which is the good news.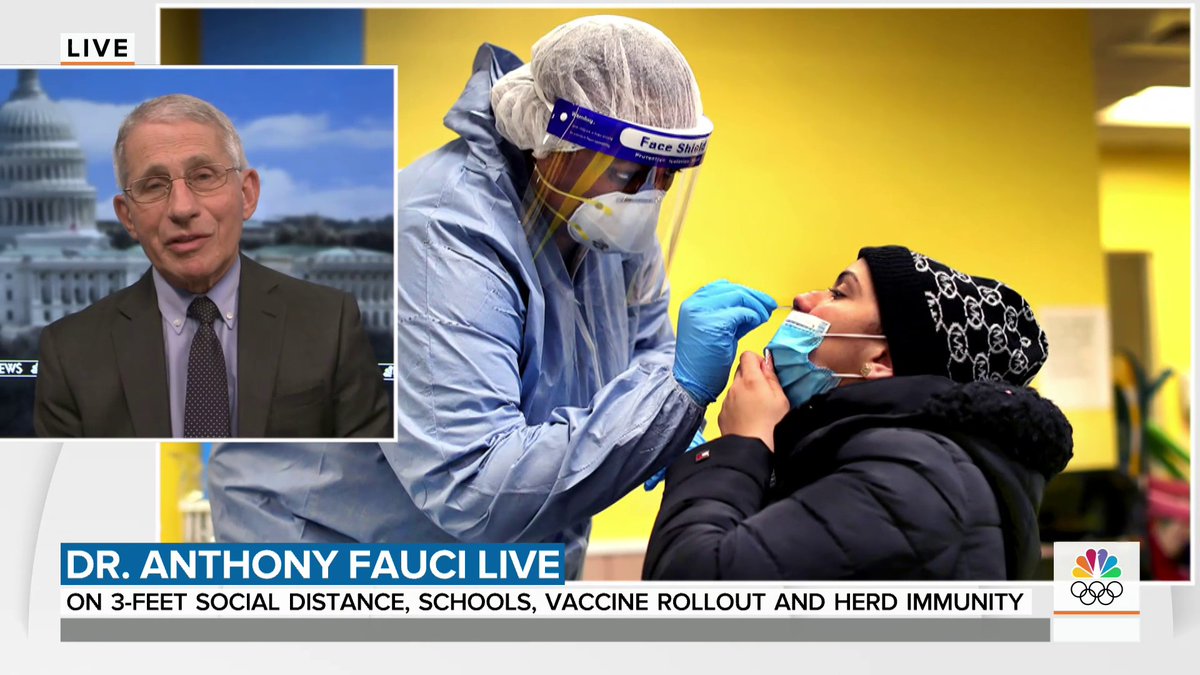 One overnight development is that a man was arrested near the vice-president's residence yesterday, and was found to have a rifle and a large amount of ammunition. Doha Madani reports for NBC News:



A man was arrested after he was stopped by the Secret Service near the Naval Observatory in Washington, traditionally the home of the vice president, and later found to have had a gun in his car.

Agents detained the man, Paul Murray, 31, as a possible suspicious person after they spotted him near the observatory around noon, DC Metropolitan Police said. Murray was the subject of an intelligence bulletin from Texas that circulated to police in the area.

Police officers searched Murray's car, where they found a rifle and a large amount of ammunition, police said. It was unclear why Murray was in Washington from Texas or why he was near the observatory.

Vice President Kamala Harris and her husband, Doug Emhoff, have not been living at the observatory since the inauguration as it has been undergoing repairs.
Read more here: NBC News – Man arrested near vice president's residence in DC had rifle and ammunition, police say