The pressure to buy a house can be intense, particularly in markets where home values are skyrocketing. People appear to be making a mint on real estate, and renting – instead of buying your own home – can sometimes feel like standing still.
But that's not necessarily the case.
It takes more than two years before buying the typical U.S. home makes more financial sense than renting it, when averaging the costs of home buying and renting nationwide, according to Zillow's Breakeven Horizon. It takes even longer in many areas with sky-high home values.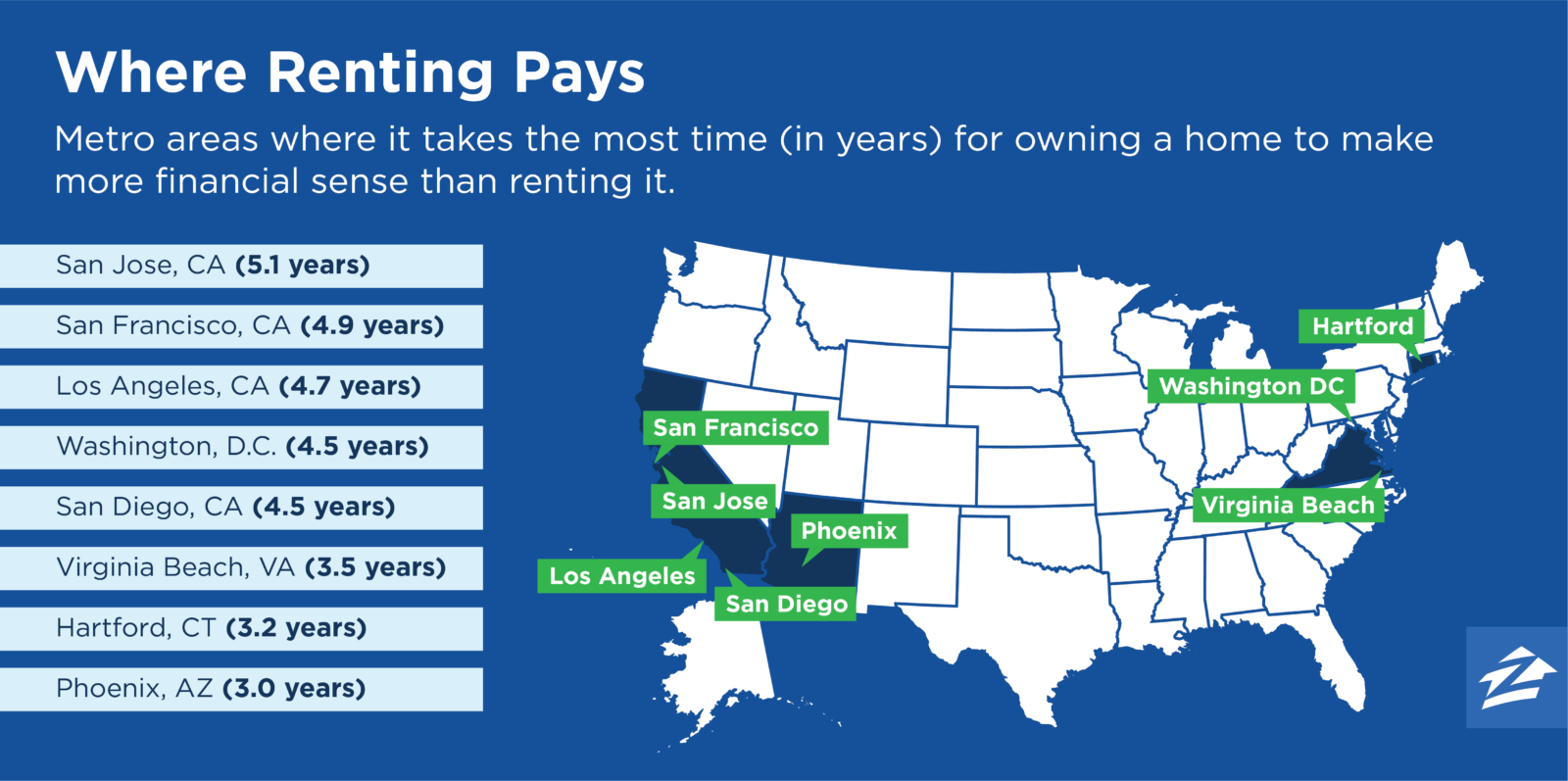 In the San Jose, CA metro area, in the heart of Silicon Valley – among the nation's priciest home markets – you'd have to spend 5.1 years in a house for buying to make more sense than renting. San Francisco has the second-highest breakeven horizon, at 4.9 years, followed by Los Angeles with 4.7 years. The markets of Washington, D.C. and San Diego, both at 4.5 years, round out the list of the five large markets with the longest breakeven horizon.
Of course, renting in these areas isn't exactly a bargain: In the San Jose metro, the median rent is $3,460 a month. San Francisco isn't far behind, at $3,354 a month.
Still, buying a home in those areas requires enormous upfront costs in the form of a down payment, fees and closing expenses, and they take time to recoup. The 20-percent down payment alone on a home in San Jose or San Francisco, where median home values are $997,600 and $848,400, respectively, easily tops $150,000.
It's important to remember that these numbers are just guidelines. Buying a house is an individual decision, with broad personal and financial implications – and no small amount of emotion. Knowing how long, even at the median, it takes for buying to become a financially wiser move than renting can remove one piece of guesswork.
Related:
Source: zillow.com