White House press secretary Jen Psaki took a question just now on Joe Biden's response to the 13 House Democrats who have called for New York governor Andrew Cuomo to resign in light of the sexual assault and harassment allegations that have come out against him.
Psaki said at the press briefing that Biden "believes that every woman who has come forward … deserves to have her voice heard, should be treated with respect and should be able to tell her story" and supports the state's investigation into the allegations.
"We have of course watched the news of the number of lawmakers who have called for that, but I don't have any additional announcements."
Cuomo is set to have a call with the press at 1 pm. We'll be keeping an eye on that to see if he addresses the calls for resignation then.
Michigan's health department just announced that all adults 16 or older will be eligible to receive the vaccine on April 5, nearly a month before Joe Biden's target date to have all American adults eligible for the vaccine.
Almost one million people in the state have received at least one dose of the vaccine since December.
Dr Joneigh Khaldun, the state's chief medical executive, said that the state hopes an opening of vaccine eligibility will help address disparities and barriers in the vaccination rollout.
"We will continue to focus our efforts on removing barriers to access for our most vulnerable to exposure and those at highest risk of severe illness," Khaldun said.
Jeffrey Zients, coordinator for the White House Covid-19 Response Team, reiterated Joe Biden's message from last night that the administration's goal is to make all adults eligible for the Covid-19 vaccine by May 1 and have enough doses for all adults by the end of May.
While all adults may not be vaccinated by the start of May, everyone should be able to sign up for a vaccination appointment. The federal government will be launching a website and a call hotline to assist people trying to make appointments.
The Federal Emergency Management Agency (FEMA) is supporting a mass-vaccination sight in Detroit that will be able to administer 6,000 shots a day, Zients said.
Three more Democratic members of New York's congressional delegation have released statements this morning calling for governor Andrew Cuomo to resign. A total of 13 House Democrats from New York have now said Cuomo should step down.
Antonio Delgado, Brian Higgins and Sean Patrick Maloney, who is chair of the Democratic Congressional Campaign Committee, released statements this morning after nine other House Democrats from the state concurrently released statements.
Five Democratic state senators from Long Island who have been historically friendly with New York governor Andrew Cuomo released a statement this morning calling for him to step down while he is under investigation.
State senators John Brooks, James Gaughran, Todd Kaminsky, Anna Kaplan and Kevin Thomas released a joint statement as Long Island's state senate majority that Cuomo is not fit to lead as governor in light of the allegations.
The senators say the sexual harassment and assault allegations against the governor "are beyond troubling and describe a disturbing pattern of behavior that also now includes a potentially criminal act".
"The gravity of these claims makes it clear to us that the governor cannot lead the state while faithfully responding to multiple investigations," reads the statement.
Cuomo has not responded to the statement nor the statements released by nine Democrats from the US House earlier this morning.
In a span of minutes, nine members of New York's congressional delegation put out statements calling on governor Andrew Cuomo to resign in light of the sexual assault and harassment allegations against the governor.
The representatives include House judiciary chair Jerry Nadler and House oversight chair Carolyn Maloney. They were joined by representatives Alexandria Ocasio-Cortez, Jamaal Bowman, Mondaire Jones, Grace Meng, Nydia Velasquez, Yvette Clark and Adriano Espaillat, all who released nearly concurrent statements denouncing the governor and demanding his resignation.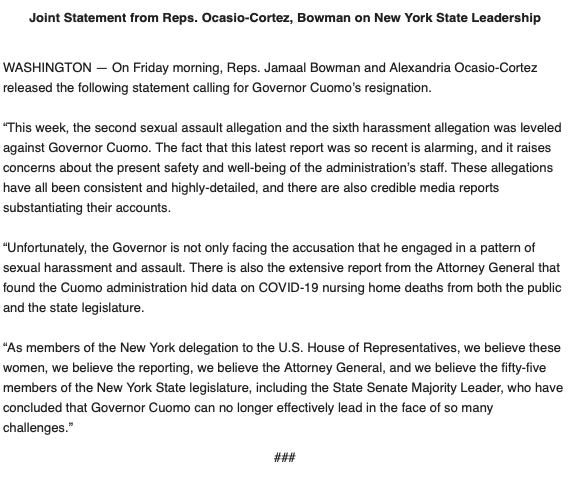 While top Democrats in New York's state assembly have called on Cuomo to resign, including New York Senate majority leader Andrew Stewart-Cousins, this is the first time the nine representatives have called for Cuomo's resignation. They join House Democrat Kathleen Rice, who demanded Cuomo step down last week.
In their statements, the Democratic representatives referenced the harassment and assault allegations leveled against the governor as well as reports that his office mismanaged the spread of Covid-19 in nursing homes.
"The deeply disturbing allegations of at least six women, including several former employees, offer detailed descriptions of sexual misconduct that raise additional concerns about the Governor's fitness to hold any position of public trust," Jones said in his statement.
In opening remarks to leaders of India, Australia, Japan had a virtual meeting with Joe Biden this morning, the president said that the US is committed to helping allies in the region "achieve stability".
"A free and open Indo-Pacific is essential," Biden told the leaders. "The Quad is going to be vital in our cooperation in the Indo-Pacific and I look forward to looking closely to working with you all of you in the coming years."
The meeting was the first between leaders of "the Quad", the nickname for the alliance between the US, India, Australia and Japan, who are primarily teaming up to counter China's efforts in making territorial claims in the Indo-Pacific region. Leaders of the other three "Quad" countries expressed enthusiasm similar to Biden's over the alliance.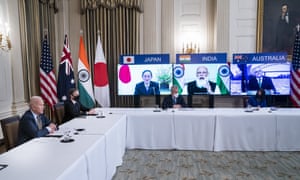 Senator Ted Cruz is offering signed copies of a children's book he didn't write as a gift to donors of his campaign.
In an email sent out to supporters, Cruz's campaign said that supporters who chip in $60 will get a copy of Dr Seuss' Green Eggs and Ham signed by the Texas senator, calling it a "cancel culture collectible" that will "be a great conversation piece".
Green Eggs and Ham is one of the many Dr Seuss books that will continue to be in print, but Cruz and other conservatives have latched onto the recent announcement that six Dr Seuss books will no longer be published as another casualty of "cancel culture". Dr Seuss' Enterprises, the company that oversees the publication of the late children author's books, made the decision to stop printing the book last year, saying that they contain racist and insensitive depictions.
Earlier this month, Cruz blamed Joe Biden – who was not involved in the decision to end publication of those six Dr Seuss books – for the "cancellation" tweeting: "Could Biden try to ban my book next?"
This is Lauren Aratani taking over for Martin Belam. The National Guard said yesterday that it will cost an additional $111m to extend their deployment at the US Capitol through May. That brings the total cost of their presence in Washington following the insurrection in January to $521m, the Wall Street Journal reported yesterday.
The National Guard is set to stay at the US Capitol through 23 May after secretary of defense Lloyd Austin approved the extension, following a request from the US Capitol Police. The National Guard were originally set to leave today. About 2,300 National Guard members will remain in Washington until May, a fraction of the 26,000 members that were originally deployed in January.
The cost of extra security is tacked onto the $30m in damages and other security measures, like a fence that surrounds the Capitol, brought out because of the insurrection. Last month, Capitol architect J. Brett Blanton told Congress that the cost to rebuild will "be considerable and beyond the scope of the current budgetary environment".
Jennifer Rubin's verdict on Joe Biden's first national prime time TV address last night was that it was "a normal speech for abnormal times":



Many Americans have almost forgotten what a normal president and a normal White House address sounds like. You might remember: The president uses his appearances sparingly to highlight the most important events and issues — such as the passage of a landmark rescue plan. The speech is devoid of insults, slurs and accusations, and it is sparing in its use of "I." That is what the country got Thursday night during President Biden's first prime-time address.

It was reassuring to tune in, not fretting about the next outrageous insult or abject lie. It was a delight to see someone not reading the speech for the first time.

The speech itself was sober in retrospect and optimistic in forecast. Biden recalled our "collective suffering" and the heroic efforts of scientists and health-care professionals. He poetically announced, "Finding light in the darkness is a very American thing to do. In fact, it might be the most American thing we do." As he is wont to do, Biden commiserated with the loss of life and the economic turmoil, the educational interruption and the missed family occasions. Ironically, he said, we found unity in suffering. "While it was different for everyone, we all lost something."
Read more here: Washington Post – Jennifer Rubin – Joe Biden delivers a normal speech for abnormal times
Joe Biden's meeting this morning with "the Quad" – the leaders of India, Japan, Australia and the US is underway. It's a virtual one, although we are given to understand that Japanese prime minister Yoshihide Suga will be announced as the first foreign leader to visit Biden's White House in person in due course. That's a show of how significant the Asia-Pacific region is to the new administration's foreign policy.
These Covid-impacted virtual summits are certainly providing some unique images of US diplomacy. As Jennifer Jacobs, Bloomberg News' Senior White House reporter notes here, this Quad meeting hasn't exactly been welcomed by China either. Relations with China are a topic which is sure to take up a big chunk of the discussion this morning.
You can understand that there is a pervading fascination over what Donald Trump will do next and how that might play out in a Republican party that needs the support of his base of voters to win the next election cycle. Burgess Everett has a go at reading the runes this morning for Politico:



Donald Trump sounds like he's ready for a GOP civil war. But he's also eager to play a leading role in Senate Republicans' battle for the majority. The former president is dialing up GOP senators to back their campaigns and talk strategy, weighing how to approach primaries in critical open seats and making sure he leaves an imprint on the midterm elections.

The GOP's worst-case scenario would be running campaign operations at odds with Trump in must-win states across the country next year. With that in mind, Republican senators are making a fresh effort to ensure they and Trump are aligned as much as possible — especially given lingering tensions between the ex-president, their leadership and the seven GOP colleagues who recently voted to convict him at his impeachment trial.

"He brought a bunch of new voters into the party that we want to keep," said Sen Marco Rubio, who is running for reelection and has spoken recently to Trump. "He's the most influential Republican in America. He's not going to ride off into the sunset, write his memoirs and open a library."
Read more here: Politico – Trump dives into battle for Senate
Aaron Miguel Cantú writes for us today as part of our new Overpoliced, underprotected series.
As protests against racist police violence roiled the US, students from California State University, Chico, helped swell local demonstrations last summer. Days after a Juneteenth vigil in which Phillips gave an emotional account of his son's death, the city council approved a request from Mayor Ann Schwab to form an ad hoc committee to review the department's use of force policies.
Some claim to have been skeptical of the gesture from the start, including the city's vice-mayor at the time, Alex Brown.
The committee "was made up of the police chief and two members of the Chico police officers' union, as well as three council members and their appointees," Brown told the Guardian. "So right from the get go, it looked like the deck was stacked against real human engagement participation in the process."
Brown's appointee was Cory Hunt, a member of the newly formed Defund Chico PD group. The committee met virtually once a week. Almost immediately, the meetings became a sounding board for the police and their allies to tout the department's own glowing self-assessment.
"The structure of the committee was so biased," Hunt recalled. "Any true questions I presented were met with hostility."
At one climactic meeting, Hunt brought up his own heart-stopping encounter with a Chico officer who nearly pulled a gun on him during a traffic stop. Hunt mentioned the anecdote to convey the need for implicit bias training for officers. He was brushed off.
"That was the only nugget of realness that occurred in the process," Brown said of the incident. "You saw these displays of power and privilege play out in this very public setting."
Read more here: A California town was promised police reform – then police got involved
writes:



Even before the Trump case crossed his desk, Vance had largely decided not to run for re-election. He and his wife, Peggy McDonnell, felt that he had done much of what he set out to do—among other successes, he and his federal partners had secured judgments in a dozen major bank cases, producing more than fourteen billion dollars in fines and forfeitures. This inflow covers the DA's annual budget many times over, and also pays for a two-hundred-and-fifty-million-dollar fund for community-justice programs.

But Vance is sixty-six, and the pressure of managing one of the highest-profile prosecutorial offices in the country has been wearying. "It turned out to be tougher than I thought it would be," he conceded. He told me that, although his larger-than-life predecessor, Robert Morgenthau, held the office for thirty-five years—retiring at age ninety—he himself was ready to give the next generation a shot. "There's nothing worse than a politician who doesn't know when to leave," he said.
Read more here: New Yorker – Cab Cyrus Vance Jr nail Trump?