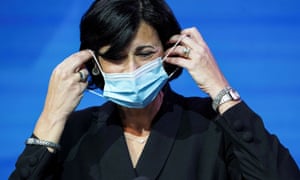 Asian Americans reported nearly 3,800 hate-related incidents during the pandemic, a number that experts believe to be just a fraction of the true total.
From 19 March 2020 to 28 February 2021, Asian Americans from all 50 states experienced everything ranging from verbal abuse to physical assaults, from getting coughed on to getting denied services because of their ethnicity, according to a report released Tuesday by Stop AAPI Hate, a not-for-profit coalition tracking incidents of violence, discrimination and harassment.
More than 68% of the abuse was verbal harassment or name-calling, while 11.1% was physical, the report found.
The report also contains numerous first-person accounts. "I was at the mall with a friend. I was wearing a plumeria clip and was speaking Chamorro when a woman coughed and said, 'You and your people are the reason why we have corona'," read one testimonial from Dallas, Texas in the report. "She then said, 'Go sail a boat back to your island'."
"During an Asian American protest, a white man driving a silver Mercedes drove past the first wave of Asian protesters, yelling out of his window at them, 'Stupid f*cking Asians!'" read one testimonial from Elk Grove, California. "Afterwards, he drove to where the remaining Asian protesters stood and was witnessed by multiple protesters aggressively driving onto the walkway where several protesters were gathered."
The report come amid growing awareness of anti-Asian violence in the US following several recent attacks. In Oakland, California, a 75-year-old man from Hong Kong died after being robbed and assaulted by a man police said had a history of victimizing elderly Asian people. Earlier this year, an 84-year-old Thai man, Vicha Ratanapakdee, was killed in a seemingly unprovoked attack in San Francisco.
"The number of hate incidents reported to our center represent only a fraction of the number of hate incidents that actually occur, but it does show how vulnerable Asian Americans are to discrimination, and the types of discrimination they face," the report authors wrote.
Read more of Vivian Ho's report from San Francisco here: Asian Americans reported 3,800 hate-related incidents during the pandemic, report finds
Jack Healy writes:
As people across the United States jockey and wait to get vaccinated, a surprising problem is unfolding in the Cherokee Nation: plenty of shots, but not enough arms.

It is a side effect of early success, tribal health officials said. With many enthusiastic patients inoculated and new coronavirus infections at an ebb, the urgency for vaccines has gone distressingly quiet.

It is a dizzying public health challenge that cuts across the country. It encompasses persuading skeptics, calling people who do not realize they are now eligible, and making vaccines accessible for homebound patients, overstretched working families and people in rural areas and minority communities.

The vaccine rollout in Native communities has been a surprising source of strength, especially as vaccinations of other communities, such as Black and Hispanic Americans, continue to lag behind white populations.

Working through the Indian Health Service and long-established networks of tribally run clinics, tribes are outpacing much of the country, already giving shots to healthy adults and eligible teenagers. Some have even thrown open the doors to non-tribal members inside their borders.
Read more here: New York Times – Plenty of vaccines, but not enough arms: a warning sign in Cherokee nation
The FBI is facing new scrutiny for its 2018 background check of Brett Kavanaugh, the supreme court justice, after a lawmaker suggested that the investigation may have been "fake".
Sheldon Whitehouse, a Democratic senator and former prosecutor who serves on the judiciary committee, is calling on the newly-confirmed attorney general, Merrick Garland, to help facilitate "proper oversight" by the Senate into questions about how thoroughly the FBI investigated Kavanaugh during his confirmation hearing.
The supreme court justice was accused of sexual assault by Christine Blasey Ford and faced several other allegations of misconduct following Ford's harrowing testimony of an alleged assault when she and Kavanaugh were in high school.
Kavanaugh denied the claims.
The FBI was called to investigate the allegations during the Senate confirmation process but was later accused by some Democratic senators of conducting an incomplete background check. For example, two key witnesses – Ford and Kavanaugh – were never interviewed as part of the probe.
Among the concerns listed in Whitehouse's letter to Garland are allegations that some witnesses who wanted to share their accounts with the FBI could not find anyone at the bureau who would accept their testimony and that it had not assigned any individual to accept or gather evidence.
"This was unique behavior in my experience, as the Bureau is usually amenable to information and evidence; but in this matter the shutters were closed, the drawbridge drawn up, and there was no point of entry by which members of the public or Congress could provide information to the FBI," Whitehouse said.
He added that, once the FBI decided to create a "tip line", senators were not given any information on how or whether new allegations were processed and evaluated. While senators' brief review of the allegations gathered by the tip line showed a "stack" of information had come in, there was no further explanation on the steps that had been taken to review the information, Whitehouse said.
"This 'tip line' appears to have operated more like a garbage chute, with everything that came down the chute consigned without review to the figurative dumpster," he said.
Read more of Stephanie Kirchgaessner's report from Washington DC here: FBI facing allegation that its 2018 background check of Brett Kavanaugh was 'fake'
@Secdef, @moteging, & @KishiNobuo on the importance of a free, open, & inclusive Indo-Pacific anchored by universal values & uninhibited by coercive power. We're committed to cooperation with Japan including as part of the Quad & trilaterally with the ROK. pic.twitter.com/37VkmiMfrR
March 16, 2021
Reuters report that Blinken warned China this morning against using "coercion and aggression" as he sought to use this first trip abroad to shore up Asian alliances in the face of growing assertiveness by Beijing.
China's extensive territorial claims in the East and South China Seas have become a priority issue in an increasingly testy Sino-US relationship and are an important security concern for Japan.
"We will push back, if necessary, when China uses coercion and aggression to get its way," Blinken said.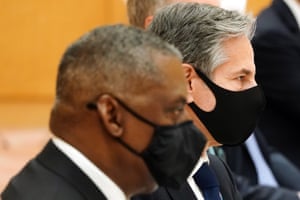 His visit to Tokyo with Defense secretary Lloyd Austin is the first overseas visit by top members of President Joe Biden's cabinet. It follows last week's summit of the leaders of the Quad grouping of the United States, Japan, Australia and India.
Blinken also expressed concern over the Myanmar military's attempt to overturn the results of a democratic election, and its crackdown on peaceful protesters, and reaffirmed Washington's commitment to human rights, adding, "China uses coercion and aggression to systematically erode autonomy in Hong Kong, undercut democracy in Taiwan, abusing human rights in Xinjiang and Tibet."
The US officials ended the visit with a courtesy call on prime minister Yoshihide Suga, who is set to visit the White House in April as the first foreign leader to meet Biden.
Meetings in Alaska on Thursday will bring together for the first time senior Biden administration officials and their Chinese counterparts to discuss the frayed ties between the world's top two economies.
In the final hours ahead of the vote on Joe Biden's Covid relief bill, Senator Joe Manchin of West Virginia had thrown his fellow Democrats a curveball. He had effectively put the entire bill in jeopardy by possibly joining Republicans on unemployment benefits.
Manchin seemed immovable. The White House legislative affairs team couldn't get him to relent. Senator Chuck Schumer of New York, the top Democrat in the chamber, met with him as well, but couldn't get him to budge, according to two Democrats with knowledge of those discussions. Eventually Manchin and Biden got on the phone directly, twice. The unemployment benefits in the bill were scaled back by a few weeks and the bill regained momentum.
The episode underscores an important dynamic between Schumer and Biden. For decades, the two Democrats have been striving to get the jobs they now have -Schumer as the Senate majority leader under a Democratic president, and Biden the president with his party in control of both chambers of Congress.
But now the two Democrats have to wrangle with a sometimes unruly and razor thin Democratic majority in Congress amid an ongoing global pandemic and a teetering economy. For Biden, successfully accomplishing his policy goals depends on close coordination with Schumer. For Schumer, working with Biden and ushering through his agenda could decide the length of time he's majority leader or even if he has to worry about a primary challenge from the left.
While Biden and Schumer have run in very powerful Democratic circles and served as second-in-command to party leaders who fostered strong relationships, their history together is comparatively thin for two Democrats who have been in national politics for decades. They have a good relationship, but they aren't besties.
"Look, are they bosom buddies? No," said a former Obama administration official. "But is there like a great deal of respect and fondness for one another? Yes. They're pretty different people but I think they're mutually fans of each other. This is not a situation where their kids hang out or they go to family barbecues."
Biden, 78, and Schumer, 71, are Democratic party mainstays. Both are known for their love of retail politicking and talking. Both come from comparatively humble beginnings. Both of them have spent decades in the Senate. And both of them have sometimes aligned more closely with the more moderate wing of the Democratic party and at other times the more liberal wing.
Read more of Daniel Strauss's report here: Joe Biden and Chuck Schumer – a key relationship to a successful presidency