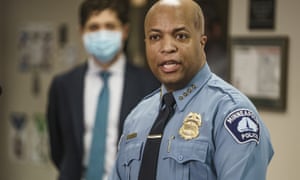 Progressive congresswoman Cori Bush criticized the defense lawyers of former Minneapolis police officer Derek Chauvin for trying to put the focus on George Floyd's character rather than their client's actions.
"Derek Chauvin is on trial. America is on trial. Our criminal-legal system is on trial. George Floyd is not on trial," Bush, a Democrat of Missouri, said in a tweet.
This is Joan Greve in Washington, taking over for Joanna Walters.
The White House coronavirus response team held a briefing this morning, and the director of the Centers for Disease Control and Prevention issued a dire warning about the recent rise in coronavirus cases in the US.
Dr Rochelle Walensky deviated from her prepared remarks for the briefing to reflect on the "recurring feeling I have of impending doom".
"We have so much to look forward to, so much promise and potential of where we are and so much reason for hope, but right now I'm scared," Walensky said, as her voice wavered.
"I'm speaking today not necessarily as your CDC director, and not only as your CDC director, but as a wife, as a mother, as a daughter to ask you to just please hold on a little while longer," the CDC director added.
Asked later in the briefing to explain why she is concerned, Walensky noted that new coronavirus cases in the US had recently stagnated around 40,000 to 50,000 a day. But the number of new cases has recently ticked upward to around 70,000 a day. Coronavirus hospitalizations and deaths are also on the rise in the US.
Walensky urged Americans to continue taking every possible precaution to limit the spread of the virus as states work to get more residents vaccinated.
According to Johns Hopkins University, 549,364 Americans have now died of coronavirus.
The principle defense lawyer Eric Nelson is now making his opening argument.
Prosecutor Jerry Blackwell made the opening argument for the state for a little over an hour, including the devastating video showing George Floyd's death.
Nelson is talking from behind a plexiglas screen. Derek Chauvin is sitting to his left, with a face mask.
Nelson is already talking about how Floyd was under the influence of drugs on 25 May 2020, when he went in to Cup Foods corner store in southern Minneapolis and, allegedly, tried to buy a packet of cigarettes with a fake $20 bill.
In the trial of former Minneapolis police officer Derek Chauvin, prosecutor Jerry Blackwell notes that later in the trial, the jury will hear from the city's police chief, Medaria Arradondo.
Blackwell said that Arradondo will say that the conduct of Chauvin in the killing of George Floyd last May was "not consistent" with Minneapolis Police Department training or protocol.
"He will tell you it's excessive force," Blackwell said.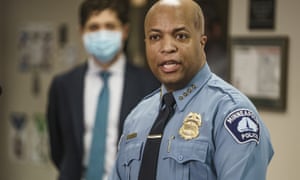 Derek Chauvin is charged with murder in the second and third degree and with manslaughter. He was fired after Floyd's killing.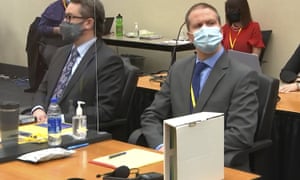 George Floyd's family along with family attorneys and civil rights cctivist Al Sharpton held a press conference in front of the courthouse where ex-officer Derek Chauvin is on trial charged with murdering George Floyd.
"Derek Chauvin is in the courtroom but America is on trial," Sharpton said to the crowd.
The family, led by Sharpton, took a knee beginning at 8.46am for eight minutes and 46 seconds to symbolize the actions taken by Chauvin which resulted in Floyd's death.
Downtown city buildings in Minneapolis blocked out the sun as cool winds swirled through the small crowd of protesters. Despite the small size, protesters worked hard to make their voices heard outside of the Hennepin Government Center in downtown Minneapolis, the location of the heavily-barricaded court house.
One protesters held a sign that read, "Chauvin can you breathe?"
Others read: "Minneapolis will never forget George Floyd," and "Mr George Floyd is not in trial, Derek Chauvin is."
Demonstrators chanted their demands for justice.
Mikayla McKasy, a Black, 23-year-old actor, told the Guardian: "It's time for actual judicial change. What has happened since we marched last year? What has changed? Nothing."
Mckasy added: "Cops need to be accountable for their actions…The fact that we let a cop with 19 [complaints] against him still walk the streets is unfathomable."
Chauvin had a history of complaints against him from the public, and a track record of restraining people using his knee.
Members of the public, lawyers, activists and members of George Floyd's family gathered early this morning outside the heavily-barricaded court house.
Our correspondent Amudalat Ajasa was there and took some video as the central group kneeled.
Civil rights activist Rev Al Sharpton notes at the two minute-mark of them taking a knee that they are only a short way into the time that Chauvin crushed Floyd.
Prosecutors are now playing the excruciating and shocking video of now-former officer Derek Chauvin kneeling on George Floyd's neck as Floyd pleads for his life.
Floyd can be heard roaring in pain and anguish, crying out, as Chauvin adjusts his position to ensure he is firmly pinned under his knee.
Bystanders can be heard saying: "You have got him down, let him breathe", "His nose is bleeding" and "How long y'all going to hold him down?"
Floyd grunts: "I can't breathe."
A bystander says of and to Chauvin: "He is enjoying this. You are enjoying this, you fucking bum … he is not even resisting arrest, you are stopping his breathing, you think that's cool?"
The bystander man off camera can be heard saying that the police will not even look him in the eye.
It's always been noticeable that the public does not dare to physically intervene, as another police officer, armed, keeps pleading bystanders at bay.
Chauvin has his hand in his pants pocket and his sunglasses on his head as he continues to press his knee into Floyd's neck.
The prosecution was always going to center its case on the devastating video. They presented it in less than 45 minutes after beginning opening arguments.
A woman can be heard saying, after Floyd has fallen silent, "Have they killed him?"
Prosecutor Blackwell asked: "What was this all about in the first place? It was all about a counterfeit $20 bill at a convenience store."
He's referring to the alleged offense that Minneapolis police were arresting George Floyd for on 25 May 2020, when they forced him to the ground, restraining him until, ultimately, Floyd, 46, died.
Blackwell said: "They could have written him a ticket. Even if he did it on purpose it's a minor offense, a misdemeanor."
The police were originally called on Floyd for allegedly trying to spend a fake bill at Cup Foods store at the junction of 38th St and Chicago Avenue in a southern neighborhood of Minneapolis.
This area has become a focal point of protests and a semi-formal shrine known as George Floyd Square.
The future of the square is in the balance. Here's our latest report:
Prosecutor Jerry Blackwell has begun his opening argument in the trial of white former police officer Derek Chauvin for the murder of George Floyd.
Blackwell opens by showing the jury a Minneapolis police badge and some of the essence of the rules officers take an oath to follow, namely that they will "never employ unnecessary force or violence" against the public and uphold "the sanctity of life".
Chauvin "betrayed this badge," Blackwell said, adding, in language that, surely not unintentionally, evokes the Black Lives Matter movement.
"All of this matters," he said.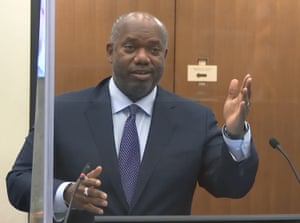 It's relevant, as the defense is expected to argue that Chauvin was following his training when he restrained Floyd.
A picture then flashes up for the jury (and the media and public watching via live stream), an all-too familiar image of Chauvin kneeling on Floyd's neck as the Black man is prone on the street and Chauvin, Blackwell said, "was grinding and crushing him until the very breath … was squeezed out of him."
He points out that Floyd was not only unarmed but was in handcuffs and was "completely in control of the police" and he was defenseless. And yet Chauvin remained in position for more than nine minutes as Floyd said 27 times, with increasing difficulty, that he could not breathe.
Blackwell apologized to the jury that he was addressing them from behind plexiglass, which is ubiquitous in the court room, to help prevent the spread of Covid-19.
Meanwhile, we'll keep you updated on significant US political news occurring elsewhere today, from Washington to … anywhere but Washington.
In Atlanta, Georgia, this morning, state representative Park Cannon came back to the Capitol after the staggering spectacle last week of her being arrested as she knocked on the door of Governor Brian Kemp while he was signing new voter suppression legislation (he calls it voter expansion…)
She was escorted this morning by Martin Luther King III, a descendent of the assassinated civil rights leader Martin Luther King Jr, and silent protesters.
Kemp signed the legislation last week seemingly very deliberately flanked by six white men and beneath an antebellum-style painting of a plantation in the time of slavery, which sparked outrage.
Jewel Wicker, in Atlanta, reported on that topic last week.
Raphael Warnock yesterday said that the US Congress must pass voting rights legislation without fail, to counter efforts that are going on in many Republican-controlled state legislatures, including Georgia, to restrict voting in a way that impacts Black and minority communities that tend to vote Democratic .
Warnock delivered a challenge to Joe Biden to prioritize the fight against voter suppression, telling the US president: "We have to pass voting rights no matter what."
Judge Peter Cahill is swearing in the jury in the trial of former police officer Derek Chauvin for the murder of George Floyd.
He's instructing the jury now. He is wearing a face mask to prevent the spread of Covid-19.
The judge's opening remark to the jury was: "You will be the judges of the facts and I will be the judge of the law."
Chauvin, who is white, is charged with murder in the second and third degree and manslaughter. George Floyd, who was Black, died under his knee on 25 May 2020, triggering a massive resurgence of the Black Lives Matter movement in the US and protests coast to coast and overseas.
The judge is now giving the jury detailed guidance about taking notes, which they are encouraged to do, as they will not be given a transcript of the trial before deliberation.
Members of George Floyd's family just knelt outside the court house in Minneapolis for eight minutes and 46 seconds, the length of time it has been shown that former police officer Derek Chauvin, now on trial for murder, kneeled on the neck of Floyd, 46, as he begged for mercy.
One of Floyd's brothers, Terrence Floyd, said: "We are going to get justice, we deserve it."
Earlier today, the men's sister, Bridgett Floyd, said: "I wake up every day..still trying to process this" about her brother's death last May.
Other family members were also at the gathering, as was New York civil rights leader Al Sharpton and family attorney Ben Crump.
Some were wearing face masks to prevent against Covid-19 infection that had pictures of George Floyd's face on them or, in large digits: "8:46".
"We are taking a knee for eight minutes and 46 seconds, and we want you to think of during that time, why Chauvin didn't, in that time get his knee up?," Sharpton said.
Here's Bridgett Floyd from earlier this month:
Proceedings are about to begin in the trial in downtown Minneapolis of white former police officer Derek Chauvin, who is charged with the murder of George Floyd, who was Black, last May.
We'll be starting our live stream here in moments. The jury is expected to enter and will receive instructions from the judge in the case, Peter Cahill.
For the first time in Minnesota history, TV cameras will cover the whole trial, live. The judge allowed this because access to the court room has been heavily restricted because of the coronavirus pandemic.
We expect opening arguments to begin around 10.30am ET (9.30am local time or 3.30pm GMT).
The prosecution will open, followed by the defense.
Chauvin was fired from his job last year after Floyd's death on May 25. He was arrested and charged with murder, initially being held in custody, later being released on bond. He has been in court since the jury selection began a few weeks ago.
He and Floyd's family are only permitted to use one seat each in court on any given day.
George Floyd's brother, Philonise Floyd, indicated earlier that he will be in court today.
"If George Floyd was a white American citizen, no-one would say it was a hard case. If you cannot get justice in America for a black man for this, what can you get justice for?"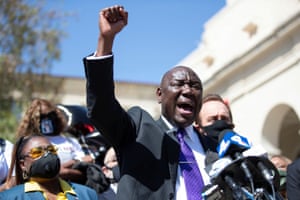 That's what civil rights lawyer Ben Crump said earlier today. Crump is a high profile lawyer who often gets involved when Black Americans have been killed by police officers or, for example, by white agitators who present themselves as vigilantes.
Crump predicted that Derek Chauvin's defense team will rip into George Floyd. "They are going to try to assassinate his character," he said.
It's already been indicated by the defense that they are going to try to focus the jury's attention on the idea that George Floyd's cause of death could have been primarily a drugs overdose, coupled with underlying health conditions such as heart disease and high blood pressure.
This could be a hard sell, as both the official autopsy and an independent autopsy noted the other factors but concluded that Floyd's death was a homicide.
Crump and family members of George Floyd are talking outside the court house in Minneapolis now.
Journalist Amudalat Ajasa is there for the Guardian and we'll be bringing you her reporting here and in forthcoming articles today.
Here's the Guardian's curtain-raiser story:
it is rare for a police officer who has killed a civilian to be arrested and charged, let alone convicted, of murder.
"We know that this is a slam dunk, because the video is the proof, that's all we need," Philonise said, using the common basketball term.
Bystander video that went viral last May shows (now former) Minneapolis police officer kneeling on George Floyd's neck as Floyd was held prone on the street during an arrest attempt.
Chauvin kept the pressure on for around nine minutes as Floyd first begged for his life and then passed out, with his pulse fading.
"He [Chauvin] killed my brother in broad daylight, it was a modern day lynching," Philonise Floyd said.
The most serious charge Chauvin faces is second degree murder, which carries a maximum prison term of 40 years.
The Floyd family wants the second degree murder charge to stick, rather than the third degree murder and manslaughter charges with which Chauvin is also charged.
Floyd pointed out that Chauvin and three accompanying officers "were stopping people trying to stop him killing George".
The video shows bystanders who were pleading for mercy for George Floyd being warned off.
Good morning, US politics live blog readers, there is a lot going on in Washington and state news – looking at you, Georgia – today and this week. And in Minneapolis, opening arguments are expected to begin this morning in the trial of Derek Chauvin for the death of George Floyd last May. We'll have a livestream of the court proceedings and reports from the streets of the Minnesota city. So please stay tuned.
The trial of white former police officer Chauvin, charged with the murder of Floyd, who was Black, gets underway properly today after several weeks of jury selection and legal arguments.
It's so much more than a criminal trial or even a police brutality trial, given that the killing of Floyd re-galvanized the Black Lives Matter movement in the US and triggered a racial reckoning in many places as protests took place around the world.
For the first time in Minnesota legal history, the trial will be live-streamed, because access to the court room itself is severely restricted because of the coronavirus pandemic. We will have a live stream today in this blog.
Proceedings begin at 9am local time in the Twin Cities, 10am ET/3pm GMT and after jury instructions and some legal this and that, opening arguments are expected, with the prosecution beginning.
George Floyd's brother, Philonise Floyd, described on TV this morning his brother's killing as "a modern day lynching" and predicted a murder conviction will be a "slam dunk" because of the bystander video of Chauvin kneeling on George's neck.
In other news, White House press secretary Jen Psaki will hold a briefing at 12.30pm today.
The White House coronavirus team of experts and officials will hold a live briefing at 11am.
Joe Biden warned Americans yesterday about letting their guard down against the Covid-19 pandemic, as cases creep up again. He said he expected to say more today after being briefed by his expert team, led by Anthony Fauci, at 1.30pm. The US president is due to make remarks on the vaccine distribution process shortly after.