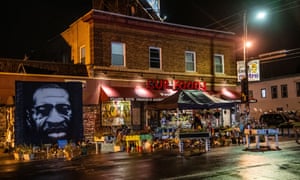 A journalist will face trial in Iowa today on charges arising from her arrest while covering a Black Lives Matter protest last year, in a case condemned by Amnesty International and news organizations across the US as an assault on press freedom.
Andrea Sahouri, a public safety reporter for the Des Moines Register, is charged with "failure to disperse and interference with official acts, misdemeanors". If convicted, she could face a fine and 30 days in jail. She has pleaded not guilty.
Sahouri was arrested at the protest in Des Moines on 31 May, six days after the killing of George Floyd by officers in Minneapolis, which touched off months of international protests against police brutality and for racial justice.
She says she identified herself as a member of the press several times. But police pepper-sprayed and zip-tied her and her then boyfriend. Both were taken to Polk county jail.
A Des Moines police officer, Luke Wilson, has said he believed Sahouri was a protester because she was not wearing press credentials. Because Wilson did not turn on his body camera as he was supposed to, there is no video footage of the incident. Sahouri did film herself recounting what happened, while detained in a police car.
The judge in the case, Lawrence McLellan, has declined to drop the charges but has ordered police to give body camera training materials to Sahouri's defense team.
Sahouri was one of many journalists targeted by police amid the wave of protests that followed the killing of Floyd. The trial of the officer who knelt on Floyd's neck, Derek Chauvin, is scheduled to begin on Monday.
The CNN journalist Omar Jimenez, and his crew were arrested live on camera while covering a protest in Minneapolis. The NBC journalist Ali Velshi was shot in the leg with a rubber bullet, also live on camera. Donald Trump called what happened to Velshi "the most beautiful thing".
According to the US Press Freedom Tracker, 127 journalists were arrested or detained in 2020, compared with nine arrested or detained in 2019. Sahouri is one of 13 to face criminal charges.
Read more of Erum Salam's report here: Case of reporter facing trial over BLM coverage seen as attack on press rights
count [him] out" from backing Trump after the riot but he quickly dropped any show of independence.
On Sunday he was speaking to Axios on HBO at the end of a weekend in which Trump was reported to have told the Republican party to stop fundraising off his name and was also reported to be preparing to leave Florida for the first time since leaving office, to visit New York, his home city.
Trump retains a firm grip on his party, topping polls of prospective nominees for president in 2024. He is eligible to run for office again because he was acquitted at his second impeachment trial, on a charge of inciting the Capitol riot.
Five people including a police officer died as a direct result of the storming of Congress by a crowd Trump had told to "fight like hell" in support of his attempt to overturn election defeat by Joe Biden. Graham was one of 43 Republicans who voted to acquit.
"Donald Trump was my friend before the riot," he said, of a man who attacked him viciously in the 2016 Republican primary and who he famously said would destroy the party if he became its nominee. The senator pivoted once Trump took power, to become one of his closest and most eager allies.
"I'm trying to keep a relationship with him after the riot," he said. "I still consider him a friend. What happened was a dark day in American history. And we're going to move forward."
Graham said the best way for Republicans to do that was "with Trump, not without Trump."
In the interview, Axios' Jonathan Swan countered that Trump is "still telling everyone he won in a landslide", a lie repeatedly thrown out of court and which has placed the former president in legal jeopardy.
Former vice president Mike Pence is set to give his first speech since leaving office to a conservative Christian lobbying organisation in South Carolina.
A Pence aide told Associated Press that Pence will be the keynote speaker at a dinner hosted by the Palmetto Family Council on 29 April. The state's contest is one of the earliest presidential primaries and therefore plays a crucial role in the Republican nomination process for 2024, making it a potentially significant choice of venue.
The Palmetto Family lobbies for what it considers to be "biblical values," such as heterosexual marriage, and most recently helped push through a ban on most abortions in South Carolina.
Pence has long been considered a leader of the Republican Party's religious right having long advocated for restrictions on abortion and has previously voiced support for the overturn of Roe v. Wade.
Dave Wilson, president of Palmetto Family Council, told Associated Press that he considered Pence a "prime person" to address the organisation due to the "level of faith" the former vice-president embodied while in office.
South Carolina cancelled their Republican primary in 2020, in a move that organisers said was intended to save the state's taxpayers $1.2 million running an unnecessary primary "with no legitimate primary challenger" to then incumbent President Trump.
A national survey of Republican voters conducted by veteran Republican pollster Tony Fabrizio indicated that Pence and Florida Governor Ron DeSantis would be the current favourites for the Republican nomination were Trump to decide against a run in 2024.