Carl Hiaasen, the venerated Miami Herald writer, has filed his last column for the Florida paper, a stark warning about the state of local journalism in America.
Across 35 years of opinion writing, Hiaasen has covered everything from corruption among Miami power brokers to scandal in the Florida state capital, Tallahassee, to the wanton environmental destruction of the Everglades and other natural areas, an issue close to his heart.
In his final column for the Herald, Hiaasen addressed the impact of the long-running crisis in local journalism, as US newspapers close in droves and journalists are laid off with depressing regularity.
"Retail corruption is now a breeze, since newspapers and other media can no longer afford enough reporters to cover all the key government meetings," Hiaasen wrote.
"You wake up one day, and they're bulldozing 20 acres of pines at the end of your block to put up a Costco. Your kids ask what's going on, and you can't tell them because you don't have a clue."
@DVNJr anecdote about Carl Hiaasen is part of why I do miss newsrooms right now pic.twitter.com/17M97PaBw9
March 14, 2021
More from the Associated Press, this time on this morning's report from the FBI about the dramatic Christmas Day explosion in Nashville, Tennessee…



The man who blew himself up inside his recreational vehicle on Christmas Day in Nashville, Tennessee was grappling with paranoia and conspiracy theories but there are no indications he was motivated by social or political ideology, the FBI said on Monday.

An FBI statement set out to resolve some of the lingering mysteries of an explosion that perplexed investigators and the public because it appeared to lack an obvious motive. Though the blast damaged dozens of buildings, it took place early on a holiday well before streets would be busy and was preceded by a recorded announcement warning a bomb would detonate.

The FBI concluded that the bomber, Anthony Quinn Warner, chose the location and timing so that it would be impactful while minimizing the likelihood of "undue injury".
The report found Warner acted alone and set off the bomb to kill himself, driven in part by conspiracy theories and paranoia. The report also found that stressors included "deteriorating interpersonal relationships".

"The FBI's analysis did not reveal indications of a broader ideological motive to use violence to bring about social or political change, nor does it reveal indications of a specific personal grievance focused on individuals or entities in and around the location of the explosion," the statement said.

Investigators quickly settled on Warner, identifying him through DNA recovered from the blast site. They concluded early on that he acted alone.

Despite online speculation that Warner may have been motivated by conspiracy theories about 5G technology, given the proximity of the explosion to an AT&T building and the resulting havoc to cellphone service in the area, the FBI statement gives no indication that that is the case.

Law enforcement actions received scrutiny in the days after the bombing when it was revealed that in 2019 Nashville police visited Warner's home after his girlfriend reported that he was building bombs. The police did not make contact with him or see inside his RV.

Warner took steps in the weeks leading up to the bombing that suggested he didn't expect to survive. For instance, he gave away his car, telling the recipient he had cancer, and signed a document that transferred his home to a California woman for nothing in return. He told an employer he was retiring.

A neighbor who made small talk with Warner recalled that he said something to the effect of, "Oh, yeah, Nashville and the world is never going to forget me."
The Associated Press has more on the new arrests connected to the death of Brian Sicknick, the Capitol police officer who died as a result of the attack by Trump supporters on 6 January:



Investigators initially believed that Sicknick was hit in the head with a fire extinguisher … [but] investigators now believe Sicknick may have ingested a chemical substance, possibly bear spray, that may have contributed to his death, officials have said.

Julian Khater is the man in a video obtained by the FBI that showed him spraying Sicknick and others with bear spray, according to court papers. The act hasn't been directly tied to Sicknick's death.

"Give me that bear [expletive]," Khater said to George Tanios on the video, according to court papers. Sicknick and other officers were standing guard near metal bike racks, the papers say.

Khater then says "they just [expletive] sprayed me" as he's seen holding a white can with a black top that prosecutors said "appears to be a can of chemical spray".

…Sicknick collapsed later on and died at a hospital on 7 January. The justice department opened a federal murder investigation into his death, but prosecutors are still evaluating what specific charges could be brought in the case, the people said.

The medical examiner's report on Sicknick's death is incomplete. Capitol police have said they are awaiting toxicology results.
Two men have been charged in the death of Brian Sicknick, the police officer who died after Trump supporters stormed the US Capitol on 6 January, in support of the former president's attempt to overturn his election defeat by Joe Biden.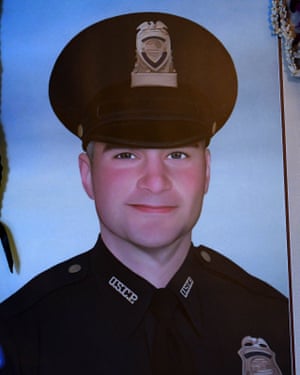 The Washington Post and other outlets report that Julian Elie Khater, 32, of Pennsylvania and George Pierre Tanios, 39 and from West Virginia, were arrested by the FBI on Sunday and expected to appear in federal court on Monday.
They are charged with assaulting Sicknick with bear spray, which Kater is reportedly alleged to be seen discharging into the officer's face on footage of the riot.
Sicknick, 42 and one of five people to die as a direct result of the assault, died in hospital on 7 January. A police statement then said he "was injured while physically engaging with protesters" and "returned to his division office and collapsed".
His body subsequently lay in state at the Capitol. The cause of his death has not been released – initial statements that he suffered blunt force trauma after being hit with a fire extinguisher were walked back.
According to the Be Bear Aware Campaign, humans exposed to the pepper-based spray, meant to be used against dangerous and charging bears, can experience "chest pain, cold sweat, or shallow breathing" while "asthma sufferers may experience acute stress".
Cory Booker, a Democratic senator from New Jersey, paid tribute to Sicknick in remarks on the Senate floor, calling his death a "crime" that "demands the full attention of federal law enforcement.".
"When white supremacists attacked our nation's capital," Booker said, "they took the life of one of our officers. They spilled his blood, they took a son away from his parents. They took a sibling away from their brothers."
More than 300 people have been arrested for their part in the Capitol riot. Donald Trump was impeached for a second time for inciting the insurrection – and acquitted when only seven Republican senators decided he was guilty.