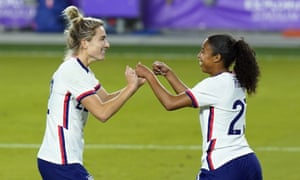 A recent jump in Michigan Covid cases and hospitalizations is alarming public health officials and raising fear that it could be an early sign of things to come across the rest of the country.
Michigan recorded nearly 17,000 new cases last week, which represents a more than 300% increase from the same week last month. Its per-capita rate over the last week is the nation's fourth highest, while its positivity rate recently hit 9% – the highest mark since mid-January.
The state's numbers, especially hospitalizations, are a cautionary tale that underscores the need for a speedier vaccine rollout here and nationwide, said Dr Jennifer Nuzzo, an epidemiologist at the Johns Hopkins University School of Public Health.
"We could very well see an increase of cases in a number of states, and we already are seeing that in Michigan, but if you address the vaccine supply bottleneck then it won't translate into a huge surge," she said. "At the end of the day, whether there's a real surge will depend on vaccinations."
The state's latest jump is attributable to the confluence of several developments, experts say: the proliferation of more contagious variants, reopening of schools, Covid fatigue and a loosening of Covid restrictions, among other issues.
Though mortalities remain low, increases in deaths have followed similar jumps in cases and hospitalizations during the state's previous surges. Hospitalizations surged by 20% between Friday and Monday, which Nuzzo called a "worrisome detail". Though the number of cases is still important, hospitalization figures are "key" as the vaccination effort races against time.
"Now I'm looking even more closely at hospitalizations and deaths because what we should see is that those continue to decline, even if cases go up," Nuzzo said. "[Michigan's hospitalization numbers] suggest that there are some vaccination gaps that need to be plugged."
The state ranks in the nation's bottom third in percentage of the population that's fully vaccinated, but as of 22 March had the second-highest increase in new vaccinations over the last week, indicating that its rollout is accelerating.
The data on who is being vaccinated may offer some clues as to why hospitalizations are up despite the rollout. While about 25% of the state's population has received a first dose, only 15% of Detroit residents have. The city's residents on the whole suffer from a higher rate of underlying health issues that are often behind the more serious cases.
Read more of Tom Perkins' report from Detroit here: Michigan Covid surge raises fears it's an early sign of things to come across US
Biden administration have been under attack from Republicans over school re-opening, so will be buoyed by the results of a survey that they have released today, which shows that nearly half of the nation's elementary schools were open for full-time classroom learning as of last month.
However, the share of students learning in-person has varied greatly by region and by race, with most non-white students learning entirely online, according to results from a national survey conducted by the Biden administration.
The results mark the starting line for president Joe Biden's pledge to have most K-8 schools open full-time in his first 100 days in office. But they also show that he never had far to go to meet that goal.
The administration plans to update the initial data set each month to show how many U.S. schools are teaching in-person, online or through a combination. The federal government did not previously collect information on the topic, making it difficult to track progress on reopening schools.
Collin Binkley writes for the Associated Press that the survey casts new light on a period of particularly bitter debate in the school reopening process. In January, officials in California, Chicago and other locales were still locked in stalemate with teachers over reopening plans, with vaccines often arising as a sticking point.
Since January, however, the push to reopen has gained steam in many areas.
The Centers for Disease Control and Prevention issued a roadmap to reopening in February, and this month the agency relaxed guidelines around social distancing in schools. Amid pressure from Biden, dozens of states are now focusing on giving Covid-19 vaccines to teachers and other school staff.
As more schools invite students back to the classroom, many parents are conflicted, according to a separate poll from the University of Chicago Harris School of Public Policy and the Associated Press-NORC Center for Public Affairs Research. It found that a majority of parents are at least somewhat concerned that in-person instruction will lead to more people being infected, but a slightly larger share are at least somewhat concerned that their children will face setbacks in school because of the coronavirus pandemic.
In addition to tracking school teaching methods, the new federal survey also tracks how many students have enrolled in each type of learning.
Sam Levine has also written for us today about the broader issue of voters rights and the dangers facing American democracy from restrictive new legislation in the coming months:
Seizing on Donald Trump's lies about fraud in the 2020 election, Republicans have launched a brazen attack on voting, part of an effort to entrench control over a rapidly changing electorate by changing the rules of democracy. As of mid-February, 253 bills were pending to restrict voting in 43 states. Many of those restrictions take direct aim at mail-in and early voting, the very policies that led to November's record turnout.
"The fragility of democracy has been exposed at levels that I think even white America was blind to," said Brown, a co-founder of Black Voters Matter.
Republicans have openly talked about their intentions. "Everybody shouldn't be voting," John Kavanagh, a Republican in the Arizona state legislature, told CNN earlier this month. "Quantity is important, but we have to look at the quality of votes, as well."
Some Republicans say that their efforts to put new voting restrictions in place are part of an effort to restore confidence in elections and prevent voter fraud, which is extremely rare.
But others have shown that their motivation is anti-democratic. Trump dismissed proposals to make it easier to vote last year by saying: "You'd never have a Republican elected in this country again." And this month, Michael Carvin, a lawyer representing the Arizona Republican party, said something similar when Justice Amy Coney Barrett asked him what interest the party had in defending two Arizona voting restrictions. Lifting those restrictions, Carvin said, "puts us at a competitive disadvantage relative to Democrats. Politics is a zero-sum game."
More danger lies ahead. Later this year, Republicans in many states will redraw electoral districts for both congressional and state legislative offices across the country, something the constitution mandates once per decade. This will give Republicans an opportunity to pack GOP-friendly voters into certain districts while spreading Democratic voters thin across others, further distorting democracy and ensuring their re-election.
And all of this comes at a moment when the US supreme court appears wholly uninterested in protecting voting rights. The increasingly conservative supreme court has signaled in recent years that it is not going to stand in the way of lawmakers who make it harder to vote, issuing significant decisions that gutted the Voting Rights Act while also giving the green light to aggressive voter purging and extreme partisan redistricting.
Read more of Sam Levine's report here: US democracy on the brink – Republicans wage 'coordinated onslaught' on voting rights
interviewed Stacey Abrams for us. In the piece she says:
The coordinated onslaught of voter suppression bills is not the norm. What's happened over the last 15 years has been a steady build where we've seen bills passing in multiple state legislatures over time. It was absolutely voter suppression, but it was this slow boil. It's that terrible analogy of the frog in the water as the water starts to boil. Unless this is what you do and unless this is what you pay attention to, folks like me were watching, but it was fairly invisible to the untrained eye that voter suppression was sweeping across the country, especially beyond the boundaries of the south.
What is so notable about this moment, and so disconcerting, is that they are not hiding. There is no attempt to pretend that the intention is not to restrict votes. The language is different. They use the veil, they used the farce of voter fraud to justify their actions. Their new term of art is election integrity. But it is a laughable word or phrase to use. It is designed based on anything but a question of integrity. The truth of the matter is there is no voter fraud. The truth of the matter is we had the most secure election that we've had.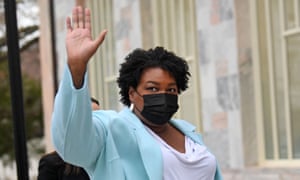 And therefore, their integrity is really insincerity. They are responding to the big lie, to the disproven, discredited and, sadly, the blood-spilled lie of voter fraud. And they are responding to it by actually doing what the insurrectionists sought, doing what the liars asked for.
I would say it's inexorably linked to race, but I want to be really clear. Black voters are of course at the center of the target, but what is happening in Arizona, what is happening in Florida is also attacking Latino voters. They are attacking the energy and enthusiasm of Native American voters. They are attacking Asian American voters. While Black voters are of course at the center because of the historical animus that seems to exist towards our participation in elections, this is also about attacking other communities of color. And we are seeing it being done with an assiduousness and an attention to detail that is, as we said before, unparalleled, except for when you look at the actions of Jim Crow.
Read more of Sam Levine's interview here: Stacey Abrams on Republican voter suppression – 'They are doing what the insurrectionists sought'